Cardinals' Molina on NLDS roster despite thumb injury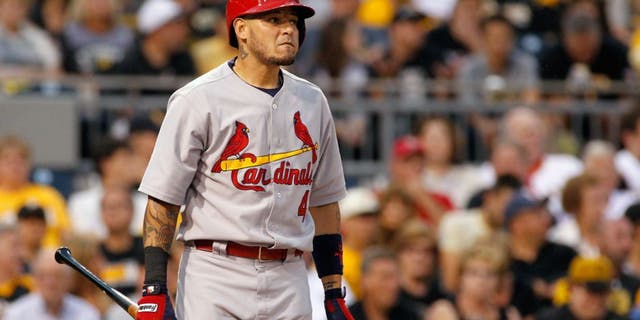 NEWYou can now listen to Fox News articles!
All-Star catcher Yadier Molina is on the St. Louis Cardinals roster for the NL Division Series against the Chicago Cubs and will play wearing a splint to protect a strained ligament in his left thumb.
Molina was injured on a tag play in Chicago on Sept. 20.
The Cardinals roster includes four rookies - outfielder Randal Grichuk, outfielder-first baseman Stephen Piscotty, outfielder Tommy Pham and infielder Greg Garcia - for the best-of-five series that starts Friday night.
Lefty Tyler Lyons joins the Cardinals after impressive outings down the stretch.
Expected in the lineup for Game 1 are Grichuk in right field and Piscotty at first.
Not on the roster: First baseman Matt Adams, who returned late in the season from a torn quadriceps; relievers Randy Choate and Steve Cishek; and infielder Pete Kozma.