Cardinals like chances in Seattle with Palmer at quarterback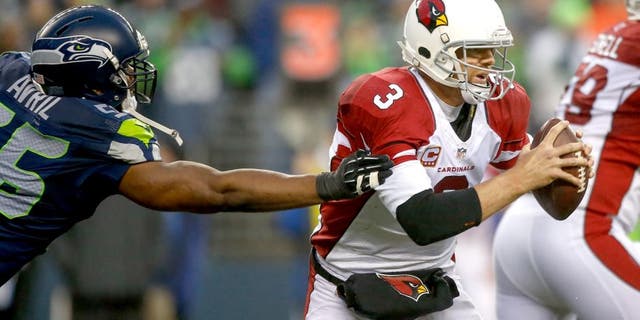 NEWYou can now listen to Fox News articles!
TEMPE, Ariz. -- The only time they beat the Seahawks in Seattle in Bruce Arians' time as Arizona coach, the Cardinals had Carson Palmer at quarterback.
Sure, he threw four interceptions on that afternoon three days before Christmas 2013 but he finished it with a 31-yard touchdown pass to Michael Floyd with 2:25 to play for the winning score in a 17-10 victory that ended the Seahawks' 14-game home winning streak.
"It felt really good for it to go from so loud to so quiet so fast," Palmer said.
Last year, Palmer missed both games against Seattle after a torn ACL ended his season.
"It's tough to miss any games," he said, "but being a (Seattle) team returning from a trip to the Super Bowl and all those things and all the hype that's around the Seahawks, it was difficult. It was a long game sitting on the couch and watching it."
On Sunday night, he will be back at the controls when the Cardinals (6-2) play at Seattle (4-4) in a critical NFC West matchup.
"As far as confidence in the locker room when Carson is in there," Arians said, "it's totally different."
Palmer has come back from his knee injury to play the best of his long career. He is on pace for franchise records in touchdowns, yards passing and quarterback rating.
And he knows how good the team that's been assembled around him can be.
"We're 10 times better than we were the last time I went (to Seattle)," Palmer said after Wednesday's practice.
There's no doubt the Cardinals are a vastly better team with Palmer. Since Week 8 of the 2012 season, a time that Palmer has said he finally had a grasp of Arians' complicated offense, Arizona is 19-4 in games with their starting quarterback. Without him, the Cardinals are 5-6.
"Anytime we play with him on the field," Arians said, "we feel like we can beat anybody anywhere."
Palmer, who turns 36 on Dec. 27, knows he hasn't many years left in the NFL. He has never won a playoff game in his 12 pro seasons, and he says this is the best team he's ever had.
Carson said "there's no way to compare" where he is as a player now compared with that victory in Seattle.
"I'm still getting better, every chance we have to practice," he said. "We've put in so much stuff and the offense changes from week to week. ... I always feel like I'm improving and getting better and that's the mentality that I take."
Running back Chris Johnson said he's never played with a quarterback so good.
"Some of the things that he's done, not just like throwing for touchdowns, but checking in and out of plays, pointing out blitzes and those type of things. What a lot of people don't know is that makes the offense go and he's doing all of that, putting in the extra work and study time. It's kind of like playing with an offensive coordinator. He knows the playbook like the back of his hand."
Halfway through the season, Palmer ranks second in the NFL with 20 touchdown passes. Only Tom Brady (22) has more. He has completed 65 percent of his passes for 2,386 yards with six interceptions. Palmer's quarterback rating of 110.2 ranks third in the NFL behind Brady (113.5) and Andy Dalton (111). The former No. 1 draft pick and Heisman Trophy winner needs 170 yards to pass Boomer Esiason for 19th place on the NFL career yards passing list.
With his performance against Cleveland on Nov. 1, Palmer became the first player in Cardinals history to throw for four touchdowns in a game twice in a season -- and he has eight games to go.
"Carson's been lights out," Arizona cornerback Patrick Peterson said. "I mean, the guy is playing the way we need him to play if we want to go where we want to be as a team, which is to be in San Francisco at the end of the year."
Notes: Arians said all players "practiced in some form or fashion." That includes center Lyle Sendlein, who injured his shoulder against the Browns. Asked about Sendlein's chances of being ready to play this weekend, Arians said, "we'll see how it goes, but I'm more than comfortable with A.Q. (Shipley). If AQ is going, we won't miss a beat."... Arizona waived/injured cornerback Cariel Brooks (high ankle sprain) and elevated cornerback Robert Nelson Jr. from the practice squad.