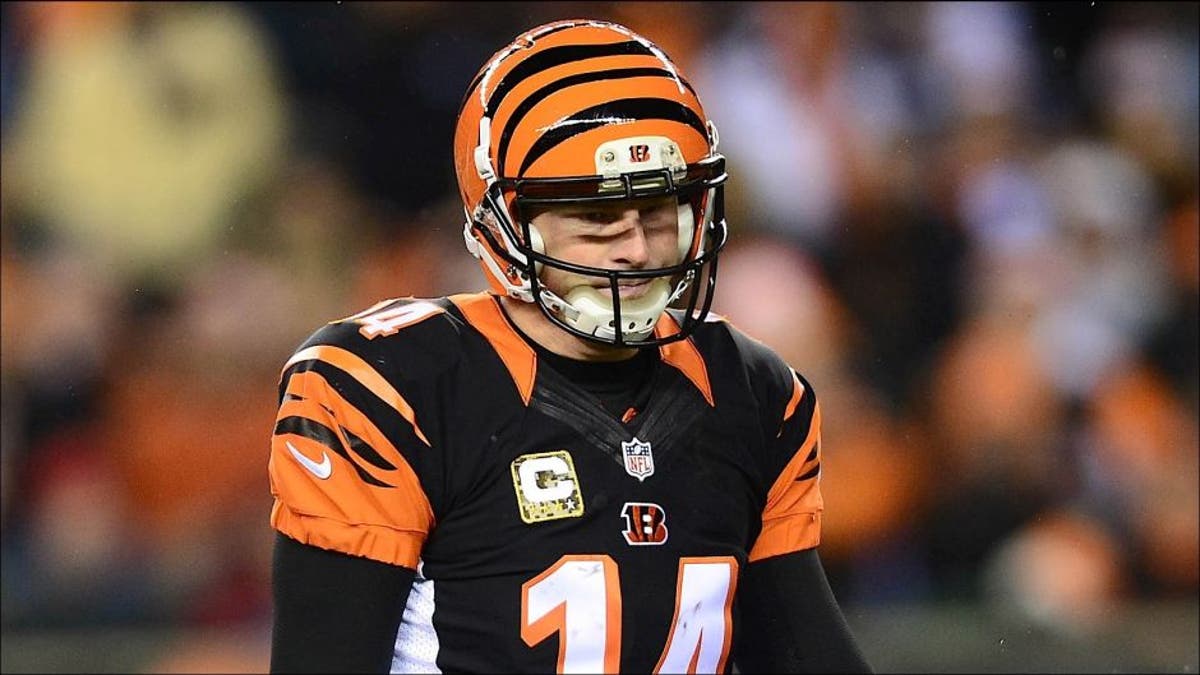 Bengals quarterback Andy Dalton is 3-7 in night games. Andrew Weber Andrew Weber-USA TODAY Sports
The last time Andy Dalton played the Cleveland Browns under the lights, it was an utter disaster. The Bengals lost 24-3 at home and Dalton's stat line was about as bad it gets -- 10 completions, 33 attempts, 86 passing yards, three interceptions, quarterback rating of 2.0.
Dalton's putrid performance did little to dispel the notion that he wilts under the lights and pressure of nationally televised games. For his career, Dalton owns a 3-7 record in prime-time games (including a 1-3 mark last season), completing just 56.5 percent of his passes to go with 11 touchdowns and 11 interceptions.
Dalton has elevated his game this year for the 7-0 Bengals, but will he revert once again to his "Bad Andy" ways against the visiting Browns? Early signs point to no.
For one, the Browns are a mess at 2-6 and their secondary will be missing two starters. Joe Haden, who has had success shadowing A.J. Green, will be out with a concussion, as will safety Donte Whitner. Whitner's backup, Jordan Poyer, is also injured, leaving rookie Ibraheim Campbell to make his first NFL start, and fellow safety Tashaun Gipson has been battling an ankle injury. Dalton is going to need extra lip balm from licking his chops so much.
Secondly, Dalton has an arsenal like never before. Opposing secondaries now have to pick their poison between Green, Marvin Jones, and tight end Tyler Eifert. And if the passing game isn't working, the Bengals can run it with Jeremy Hill and Giovani Bernard behind one of the best offensive lines in the game. The talent gap alone should allow Dalton to thrive.
Third, Dalton seemed to turn the corner at the end of last season with two decent performances back-to-back in night games against Denver and Pittsburgh. He completed nearly 70 percent of his passes, and even threw three less interceptions than Peyton Manning in a Monday night victory.
Finally, the weather shouldn't be a factor as it was last year. While there may be light showers at Paul Brown Stadium, there will be no gusting winds like the ones that victimized Dalton in the loss to Cleveland.
When all is said and done Thursday night, Dalton will take another step toward putting the bad memories behind him and the Bengals will be 8-0.