Campbell's star keeps shining, drives in 3 in 9-run inning in Vandy's 9-8 win over Virginia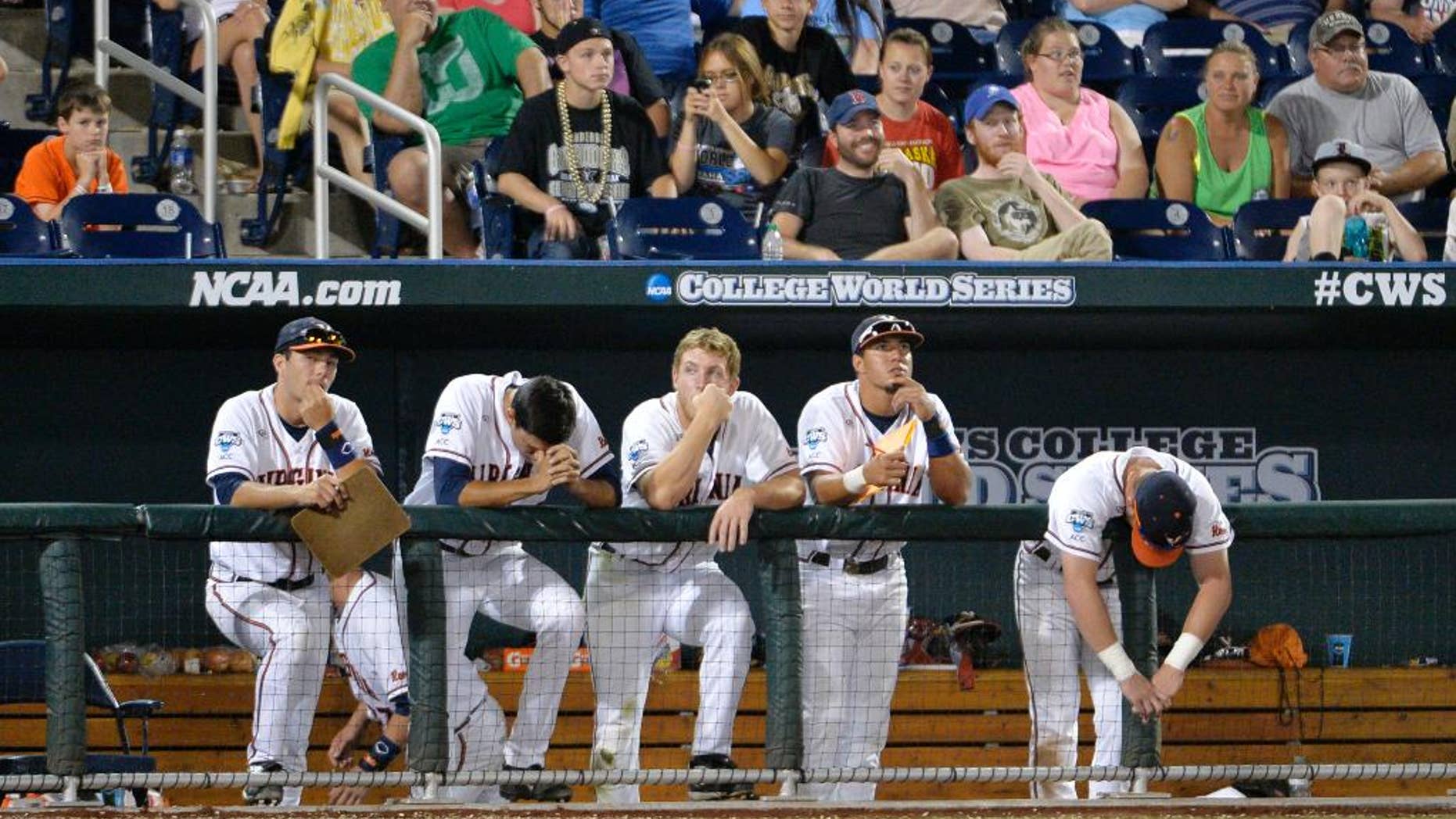 OMAHA, Neb. – It's hard to believe Tyler Campbell came into the College World Series with two hits all season.
He's got five in Omaha so far, none bigger than his bases-loaded double that highlighted Vanderbilt's nine-run third inning in a 9-8 win over Virginia in Game 1 of the CWS finals Monday night.
"I guess Tyler is a veteran now. He's played in three games," Commodores coach Tim Corbin said. "He takes advantage of key situations... He's played with a great heartbeat."
Campbell, who appeared in only 14 games before the CWS, was put into the lineup as the fill-in for third baseman Xavier Turner, who was declared ineligible on Friday for violating NCAA rules. He's 5 for 12 at the CWS and has been solid with his glove.
If he keeps playing like this, there'll be a spot for him on the all-tournament team.
Campbell had two hits against Texas on Friday, legged out a bases-loaded grounder to drive in the winning run in the 10th inning against the Longhorns on Saturday, and then had two doubles and three RBIs on Monday.
"I'm confident, yeah," Campbell said. "Against Texas the other night I didn't think I had a great game, but I think that actually helped me to stay with my approach and try to hit balls hard on the ground. I feel like I'm seeing pitches well, so that is the best deal."
The Commodores (50-20) can win their first national championship in a men's sport with a win Tuesday night.
Monday's win came after Virginia starter Nathan Kirby imploded in the third. The Commodores hung on to win after the Cavaliers nearly came back from a seven-run deficit.
"We're fortunate to win that game, for sure," Vanderbilt coach Tim Corbin said. "No one could have scripted that particular game, and if anyone said they could, they're lying. I don't think you could have called a nine-run inning."
Virginia (52-15) scored three in the third, two in the fifth and another in the eighth. Had it not been for Vanderbilt reliever John Kilichowski getting a cleat on the ball to slow down and redirect a comebacker, saving a run in the eighth, the Cavaliers would have tied it.
"We didn't really want to fall back and pack it in," Virginia's Branden Cogswell said. "We hadn't done it all year. This is the championship series, and there is no reason to do it now."
Jared Miller (7-2) got the win for two innings of relief after Walker Buehler. Adam Ravenelle came on in the ninth and earned his second save of the CWS.
It was the highest-scoring CWS game at TD Ameritrade Park, which opened in 2011, and the most runs allowed by Virginia since an 11-6 loss to Mississippi State in super regionals last year.
The nine runs in the third, off three hits, five walks and a hit batter, were the most in an inning in the CWS since Stanford scored 11 against Florida State in the ninth on June 14, 2008, at the old Rosenblatt Stadium.
"I just couldn't find my release point," Kirby said. "It hadn't happened all year, but it happened tonight. I thought we did a great job with the bats. If we carry that into tomorrow, I think we'll be fine."
Things went south for Kirby in a hurry after he struck out Chris Harvey to start the inning. He walked Jason Delay on four pitches, gave up Campbell's first double, and walked Dansby Swanson to load the bases.
Bryan Reynolds' infield single drove in a run, and then Kirby issued the first of three straight bases-loaded walks — all while Whit Mayberry was warming up in the bullpen. By the time Mayberry came on, after Rhett Wiseman reached on an error, Vandy led 5-2.
Of Kirby's last 50 pitches, 31 were balls. He walked five in the third inning after having never walked more than three in a game in his 18 previous career starts.
"Nathan Kirby has done the job all year long for this team, and I thought he was pretty sharp the first couple innings," Virginia coach Brian O'Connor said. "The third inning, it just kind of unraveled."