Bye bye Love: Timberwolves turn the page on the Kevin Love era, start fresh with Wiggins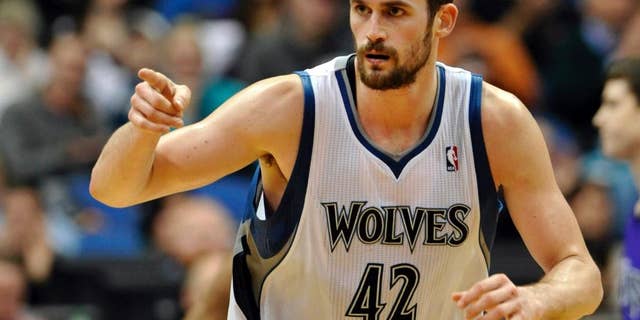 MINNEAPOLIS – Everyone knew the Minnesota Timberwolves needed to trade Kevin Love.
The face of the franchise played six seasons in Minnesota without a postseason appearance. He clashed with previous president David Kahn over his contract extension and spent last season putting up the best individual performance of his career while occasionally butting heads with teammates in a fractured locker room.
Love wanted out of Minnesota. The fans wanted his wish granted. And reuniting for seventh season together seemed to be fraught with peril.
On the face of it, the Wolves had little leverage. So owner Glen Taylor, President Flip Saunders and general manager Milt Newton had to convince the sharks circling around them that they didn't HAVE to trade Love. A summer-long dance culminated on Saturday when the Wolves sent Love to Cleveland, Alexey Shved, Luc Mbah a Moute and Miami's first-round pick in 2015 to Philadelphia and received No. 1 overall pick Andrew Wiggins and Anthony Bennett from the Cavaliers and veteran forward Thaddeus Young from the 76ers.
Getting the last two No. 1 overall picks in the draft and an athletic, 26-year-old forward who averaged 17.9 points per game last season for a superstar who had one foot out the door required patience, discipline and plenty of luck along the way.
When Saunders replaced Kahn last summer, his biggest priority was trying to convince Love to stick around for the long haul.
By the time the season ended and the Wolves finished 40-42 and in 10th place in the Western Conference, it was clear that wasn't going to happen. And that's when the bidding began. Taylor made an appearance on NBA TV at Las Vegas summer league stating that his preference was to keep Love, Saunders made several public statements saying he was comfortable starting the season with him on the roster and the Wolves set about convincing the rest of the league they weren't bluffing.
"We told all the teams from Day 1, we're happy to coach him for this last year," Newton said. "They realized we weren't going to give him away. What that did was made teams put their best foot forward to start with and see if it could get better from there."
There was pressure at every turn, never more so than in the days leading up to the draft, when many felt the Timberwolves would have the most amount of leverage and get the best return for Love. They had extensive conversations with the Golden State Warriors, who decided not to include Klay Thompson in their offer, which proved to be a deal-breaker.
The Boston Celtics, Chicago Bulls and Phoenix Suns all came at them as well, but Saunders and Newton weren't satisfied with the offers, so they hung tight.
"We knew we had a hell of a player. We knew that he was in demand by other teams, and so we weren't going to make rash decisions because we were around the draft and we supposedly had to move him," Newton said. "We knew that if we let it play out and did our due diligence that we were going to walk away with a package that we felt really, really comfortable with and that's what happened."
As the draft concluded without a deal, the Wolves appeared to be in danger going into the season with a player who didn't want to be there and a fan base that was preparing to boo him at every turn.
"We went through who we considered were cornerstones of trades with any team that'd call. If cornerstone wasn't involved, we probably weren't going to pursue that," Saunders said. "I believe that the No. 1 issue was, as the season progressed and maybe more so when I took over as coach, teams then believed we were not hesitant to bring Love back."
Then LeBron James surprised many by deciding to return to Cleveland and everything changed. The Cavaliers pursued Love before the draft, but only increased their efforts now that James was in the fold.
The Cavaliers initially refused to include Wiggins — the player the Wolves coveted — in the offer. Once again, Saunders rebuffed early offers and the Wolves privately waited for James to exert his influence on the Cavaliers to push the deal through.
Taylor and Cavs owner Dan Gilbert met in Las Vegas and came to that understanding, and a framework was established.
That's when Saunders and Newton engaged the Sixers to try to land Young, who had been on the trading block since last February. The Sixers initially wanted Bennett included to be a third team, but Saunders and Newton insisted that the biggest piece they would offer in return for a player who can become a free agent next season was the No. 1 pick they were getting from Cleveland.
By Thursday, the Sixers committed to the deal, which also gave the Timberwolves a nice $6.3 million trade exception to possibly use in future deals as well.
Moving on from the second-best player the franchise has ever known was not an easy decision, and it wasn't a smooth process to make it happen. Once it was over, they wasted little time turning the page.
"One thing you can't do in this business as coaches, general managers, presidents, you can't fall in love with players because the dynamics change," Saunders said. "What happens is you make decisions based on the personality and not based on the facts.
"Kevin, he looked and he made a decision that he felt was a business decision for himself and there were a lot of factors that led into that decision, not just what happened this past year."
___
Follow Jon Krawczynski on Twitter: http://twitter.com/APKrawczynski