Buzz: Dwight's whine makes no sense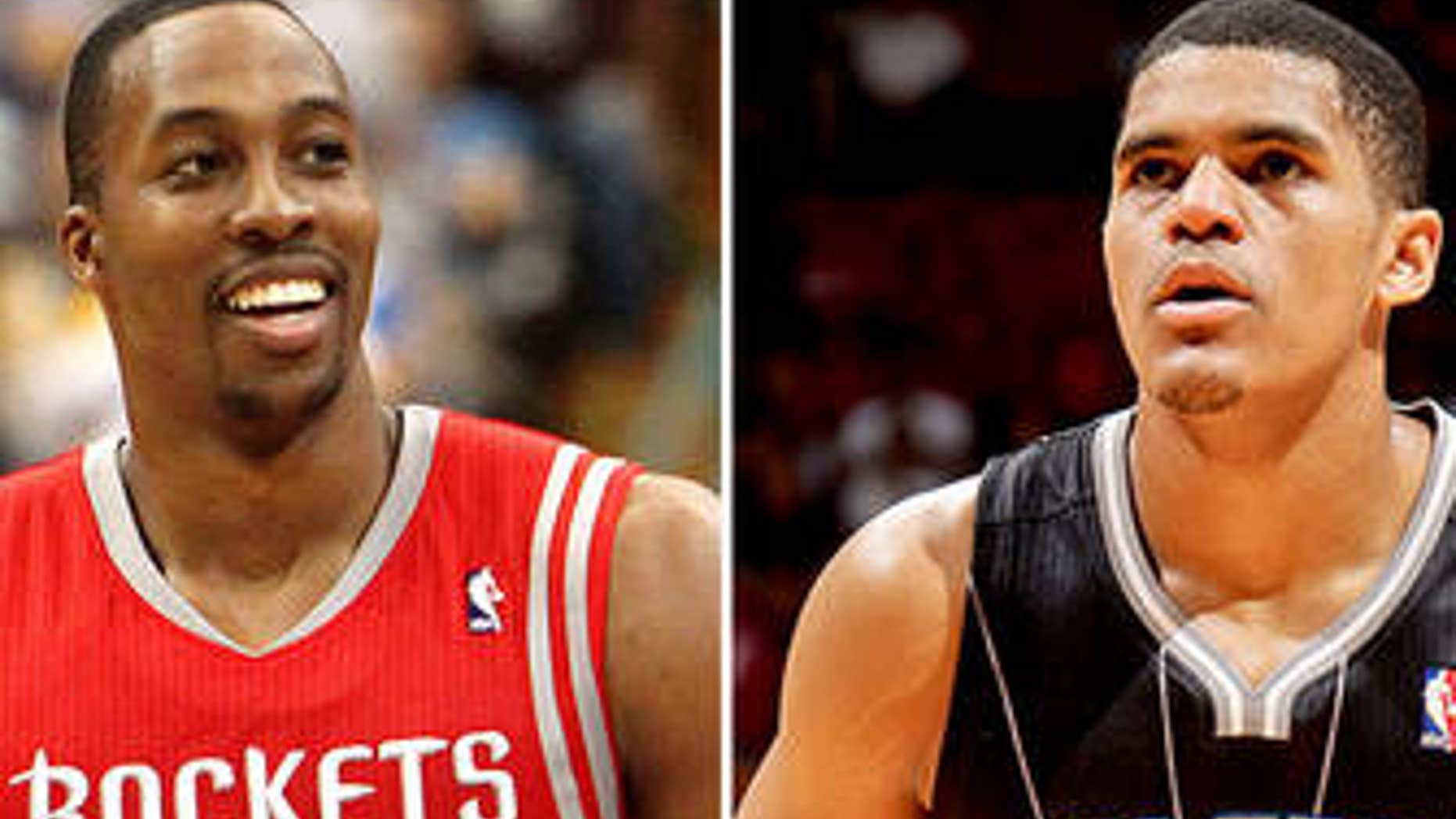 It's been more than a year since Dwight Howard unceremoniously dumped Orlando in favor of Hollywood, and in the time since that relationship crumbled into a pile of Tinkerbell fairy dust, Howard picked up a second crazy ex in the Los Angeles Lakers.
But if you thought Howard and the Magic were back on speaking terms just because he's been seeing Houston and he's made nice with former coach Stan Van Gundy, think again.
In an interview with the Orlando Sentinel , Howard intimated that there are still some hurt feelings when it comes to his first love -- in large part because the Magic moved on to someone new, too.
"I just think that despite whatever happened, there was a lot of things that I did and that we did as a team, and that number was special down there," Howard said when asked about the Magic giving his old No. 12 to forward Tobias Harris, who came to Orlando as part of February's J.J. Redick trade. "And I was a little bit upset about that."
Howard may find sympathy hard to come by in Central Florida, though.
For starters, the second-year man Harris came in and played extremely well in his 27 games with the Magic last season, averaging 17.3 points and 8.5 rebounds a night while cementing his place as a cornerstone of the franchise going forward. He's also got a damn good reason for wearing No. 12, and it has nothing to do with jeering Dwight or dismissing his legacy.
Harris wears the number as a tribute to Morgan Childs, a former teammate who died of leukemia at age 17. According to Newsday , Harris promised that he would honor Childs by wearing the number, so he wore it at Tennessee, and when he had the opportunity to get it back in Orlando -- Luc Mbah a Moute had already claimed it in Milwaukee -- he took it.
"My son and Tobias, they were both tremendous players who came up together," Childs' father, Reggie, told Newsday earlier this year. "It says a lot about Tobias for him to remember my son the way he does. For me, and for the rest of my family, every time we see Tobias out there, it's like we got to play in the NBA, too. Tobias is a special player and a special person."
Now, maybe Howard didn't know the backstory behind Harris wearing the No. 12 jersey. I'd hate to think he'd make such a petty remark if he did. But even if Howard was completely unaware, I'm not sure what makes him think he earned the right to claim that number for eternity.
After the way things ended between Howard and the Magic, there's no way he'll be immortalized in Orlando the way he wishes he could be -- just like you'll never see Shaq's No. 32 hanging in the Amway Center rafters, either.
Howard will always be appreciated for the vast impact he had on the city while he was there, and he's never going to be hated in quite the way LeBron James was when he left Cleveland. Orlando is a more forgiving bygone flame than most.
But what's done is done. There's a new No. 12 in town now, and Howard is just going to have to deal with it.
Now, for some links:
- The NFL is considering adding more Thursday night games to its slate.
- 92-year-old cheerleader still has it .
- Dan Boyle was taken off the ice on a stretcher Tuesday after a hit from behind by Maxim Lapierre:
- Sports on Earth makes a case for legal sports gambling .
- Why do the Dodgers uniforms have red numbers ?
- This is disgusting:
Meatloaf cupcake at Comerica Park. Yes, something that amazing exists: pic.twitter.com/Z593BVCFwI
-- MLB (@MLB) October 15, 2013 - Business is reportedly booming at Peyton Manning's Papa John's locations.
- John Wall will be writing "playoffs" on his shoes this season as inspiration.
- If you like watching NFL cheerleaders being scared repeatedly , this video is for you:
- Delusional Carolina Panthers defensive end Greg Hardy says he would beat LeBron in a game of 1-on-1 .
- A former Navy football player was charged with drunkenly attacking three Disney cast members .
- Not the Brooklyn Knight's finest effort:
- Cool chart illustrates the height and weight of every NFL player .
- Don't expect Kobe Bryant to be ready for opening night .
- A moment of silence, please, for Emmanuel Mbola's nether regions:
- After saving Mexico's World Cup hopes Tuesday, the U.S. team made sure to let them know it:
#YoureWelcomeMexico @miseleccionmx
-- U.S. Soccer (@ussoccer) October 16, 2013 - SB nation documents one man's cross-country journey in pursuit of streetball glory.
- Alfred Morris got his new old car back .
- Clemson put a new protective casing around Howard's Rock:
New rock cover installed today #protectingthebestcollegetradition pic.twitter.com/N8eLHsmJ9B
-- Clemson Facilities (@CUAthFacilities) October 15, 2013 - A man reportedly shot and killed his own son following an argument over when to stop watching a football game.
- Take a road trip with the Denver Post's Colorado Avalanche beat writer.
- Bo Ryan is a big Naughty by Nature fan:
- The Tulane football team got the week off after Saturday's upset win over East Carolina.
- Hoping the Cleveland Browns really were adding Tim Tebow to the roster? Sorry .
- A race car driver was arrested for racing drunk .
The original article can be found at FOXSports.com: Buzz: Dwight's whine makes no sense.