Bulls lose Rondo, Celtics face must-win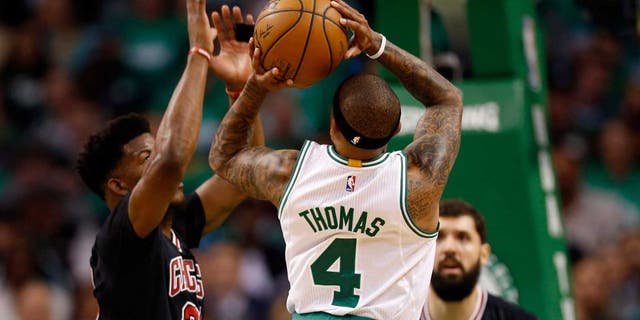 NEWYou can now listen to Fox News articles!
CHICAGO -- With his team in a 2-0 hole, Boston Celtics coach Brad Stevens can't rule out any possibilities.
So when the Celtics' first-round Eastern Conference playoff series against the Chicago Bulls shifts to the United Center on Friday night, Stevens is leaving his options open -- even if that means changing how his team looked in two lopsided losses.
Meanwhile, the Bulls will look to replicate a game plan that provided them with two road victories over the top-seeded Celtics.
However, the Bulls will have to do it without guard Rajon Rondo, who suffered a fractured right thumb in Game 2 on Tuesday night and will be out indefinitely, the team announced Friday. His injury will not require surgery.
Rondo is averaging 11.5 points, 10 assists and 8.5 rebounds in the Bulls' two victories over the Celtics.
"We have to continue to go out and play for each other," Bulls coach Fred Hoiberg said Thursday before knowing the extent of Rondo's injury. "I know our guys aren't satisfied, and we have to continue to bring it, and I'm confident that our guys will."
The Celtics find themselves scrambling to right the ship before the series gets any worse for Boston than it already is. The team and star guard Isaiah Thomas are already dealing with the emotional pain that came when Thomas' sister, Chyna, was killed in a car accident last weekend.
Thomas left to be with his family in Tacoma, Wash., on Wednesday and according to the Boston Herald, funeral arrangements were not yet complete. The Celtics traveled to Chicago without Thomas, who is expected to return to play in Game 3 on Friday night.
"This is really hard, this is super hard on Isaiah, you can tell," Stevens said Wednesday. "During the games and walkthroughs, he's trying his very best to focus. (Basketball) can be a guy's sanctuary. That's what the gym is for Isaiah. It alleviates the pain for a couple of hours. We are here to support him in any which way we can. It's tough, a challenge, but it's what we're supposed to do."
Stevens also faces the challenge of rallying his team after back-to-back losses. While he said he wouldn't take possible lineup changes off the table, Stevens added that his team needs to focus on the small things and make changes on a possession-by-possession basis rather than trying to figure out how to make up for all of the shortcomings that put the Celtics in the hole they find themselves in.
"We need to go to Chicago and steal two from them just like they did to us," guard Avery Bradley said. "That's our mentality … now it's our job to go out there and prove it."
For his part, Hoiberg will continue to stress the little things that gave the Bulls the advantage as they head back to Chicago.
The Chicago bench also played a major role in the first two games. On Thursday, Hoiberg praised reserves Bobby Portis and Paul Zipser for their parts in Chicago's success.
Hoiberg also likes the pace and unselfishness the Bulls played with in Boston. Given the resiliency and road poise he expects to see from the Celtics starting Friday night, he wants to keep things as status quo as possible moving forward.
"It's about everybody on your roster playing a part," Hoiberg said. "That's what it's all about this time of year is going out and playing your role to the best of your abilities and doing your job."