Bryce Dejean-Jones' death stuns his high school coach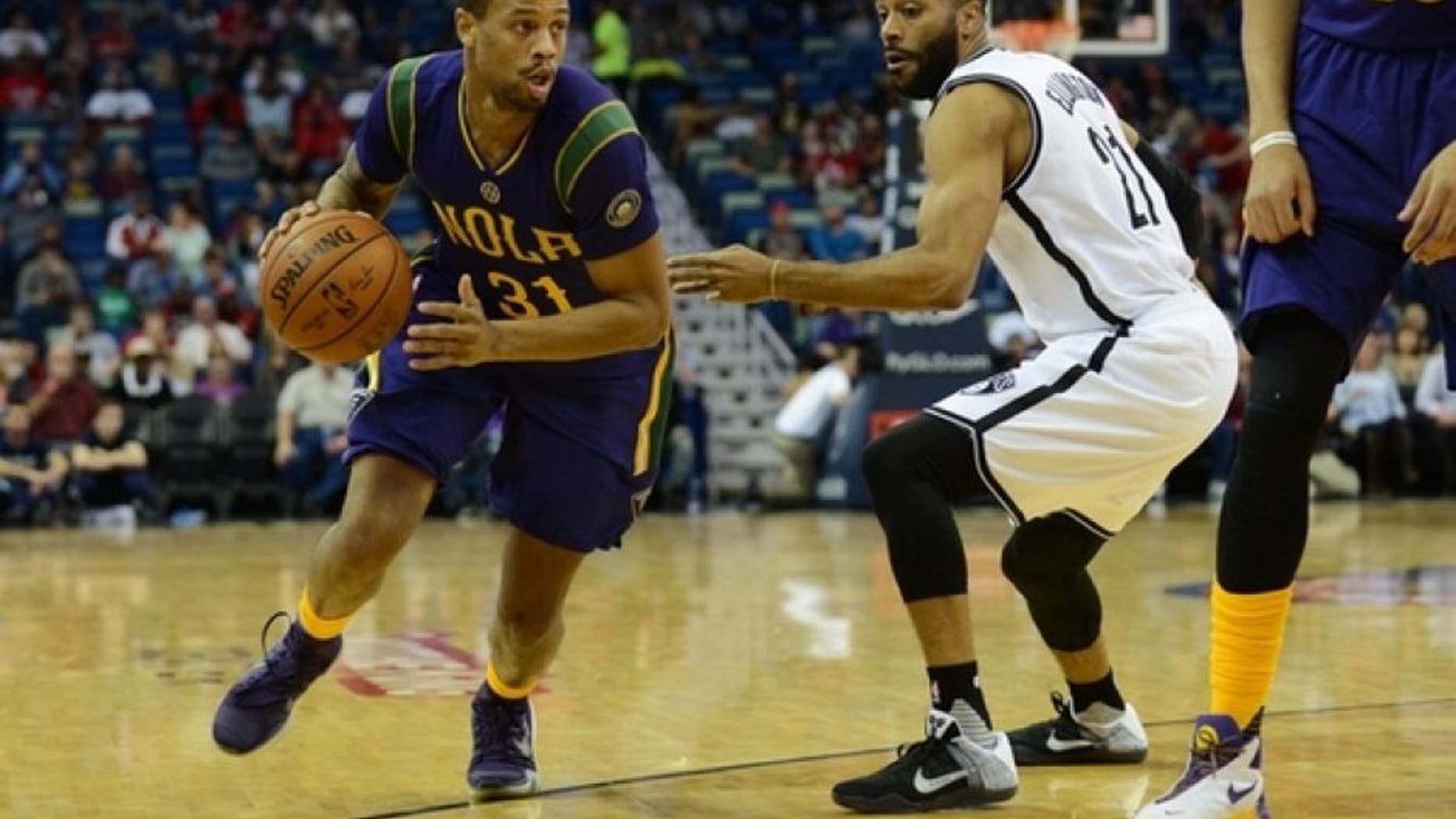 When Taft High basketball coach Derrick Taylor first heard the news that Bryce Dejean-Jones was shot and killed early Saturday morning in Dallas, Texas, he was understandably startled.
"I went numb."
Because to Taylor, Dejean-Jones wasn't just an NBA player with a promising future -- €" he was the kid Taylor drove to and from school every day for two years.
Taylor coached Dejean-Jones for two years at the Woodland Hills, Calif., school, helping turn the talented wing into one of the nation's top prep prospects. He last talked to the 23-year-old when Dejean-Jones signed a multi-year deal worth nearly $2 million with the New Orleans Pelicans in February -- €" a clear sign that despite going through three different college programs and not getting drafted that he had made it.
"I'm just sad because we talked for years, he fought so hard to get into the league, and then he finally got into the league, with discipline ... only to lose your life on an undisciplined act," Taylor said when reached by phone Saturday.
According to a police report published by the Dallas Morning News, Dejean-Jones was shot after kicking in the front door of an apartment early Saturday morning. The owner of the apartment, who police say didn't know Dejean-Jones, shot him in the abdomen as he charged into the man's bedroom. Dejean-Jones was found by police on the breezeway outside the apartment and was transported to the hospital where he died.
"I knew a woman was involved, and I know he was seeing red," Taylor said. "I know one thing about Bryce -- €" when he's seeing red, and he's angry, there's only a few of us in the world who can say 'OK, Bryce, enough.' "
Dejean-Jones' agent told CNN that his client was trying to visit the mother of his 1-year-old child but instead went to a third-floor unit at the Camden Belmont apartments early Saturday morning. The apartment he was looking for was on the fourth floor. The Dallas Morning News reported that the apartment complex sent an email to residents saying Dejean-Jones had been trying to get into the apartment of an "estranged acquaintance" and that he "inadvertently broke into the wrong apartment."
"This is bad, man -- €" really, really bad," Taylor said. "It just looks bad. When people hear this, they're going to think he's a bad guy, but there was another side to him."
Taylor remembers Dejean-Jones as a middle-of-the-road kid -- €" sometimes hilarious, sometimes quiet -- €" who was as coachable as he was talented. He was the city of Los Angeles' player of the year in 2010, when he led a Taft team that also included Detroit Pistons guard Spencer Dinwiddie to the third round of the Division I state playoffs.
Dejean-Jones originally attended USC as the school's top-ranked signee, but off-the-court issues led to him leaving his hometown school after one year. According to the Los Angeles Times, Dejean-Jones broke a teammates' nose in a locker room fight and engaged in a heated confrontation with a resident advisor in his dormitory -- €" incidents that led then-USC coach Kevin O'Neill to demand Dejean-Jones transfer.
He moved to UNLV for two years but transferred after being suspended for "conduct detrimental to the team." He enrolled at Iowa State as a graduate transfer -- €" there, he was arrested on a misdemeanor marijuana charge that was later dropped when it was shown that police did not have probable cause to enter his apartment.
The tumultuous college experience was a big reason Dejean-Jones, who averaged 10.8 points per game in his three-team, four-year career, went unselected in the 2015 NBA Draft.
Dejean-Jones' issues after leaving Taft astounded Taylor, who said he couldn't explain to college coaches how the player he knew as well-behaved and respectful became a magnet for controversy.
"My experience was different," Taylor said. "I was shocked that he got in trouble in college. In two years, he never, ever caused me a problem. I'd be lying if I said that he did."
"No technical fouls, got along with his teammates, never got into fights. Nothing. And I wasn't always easy on him. I used to really get after Bryce -- €" I used to hold him to a high standard, and I wanted to make sure he reached him," Taylor said. "I was fair, and I didn't curse them, but I was hard on them, and he was always there -- €" he always responded. Never caused me a problem."
But after going undrafted, the Dejean-Jones that Taylor knew began to re-emerge. He signed with the Pelicans but was cut in October. He played in the NBA's Developmental League, putting up strong numbers to earn an NBA call-up via back-to-back 10-day contracts in January and February. Dejean-Jones capitalized on the opportunity, signing a contract that guaranteed his 2016 salary and kept him with New Orleans until 2018.
"Some kids mature quicker than others," Taylor said. "He started to mature a bit, and it's something we all felt."