Brunson gunning for title shot against Yoel Romero after he's done with Robert Whittaker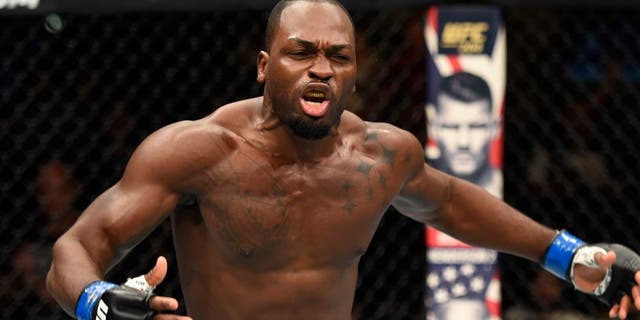 Derek Brunson is a man with a plan.
Ranked as one of the top middleweights in the world, Brunson has been mapping out his future ever since he arrived in the UFC, but especially with his recent run where he's won five straight fights including four by knockout or TKO.
Ahead of his last matchup with Uriah Hall, Brunson already targeted Robert Whittaker as his next opponent and that's exactly what he got with a main event fight set to take place Saturday night in Australia.
Brunson is ultra confident about the matchup but he wanted the fight because he knew Whittaker was ranked ahead of him at 185 pounds and it would get him one step closer towards his ultimate goal to fight for the title in the UFC.
"Robert Whittaker has his hands full and I believe he knows that," Brunson told FOX Sports. "I'm sure he does know that, I'm sure he's aware of that. At the same time, I think he is a dangerous guy. I think he was scheduled to fight (Michael) Bisping, I had him winning that fight.
"I think the guy's very skilled and I'm not looking past him."
Just like his last fight, if Brunson gets past Whittaker this weekend he's already got an idea in mind about what comes next.
Currently, the only blemish on Brunson's UFC record came in his third fight with the promotion against Olympic silver medalist Yoel Romero. It's a moment in time Brunson will never forget because he was up big on the scorecards after two dominant rounds, but Romero came storming back in the third to win the fight by TKO.
"That fight was not close at all," Brunson said about his first fight with Romero. "I'm thinking it would have been 30-27, there was about 1:30 left and he went on his little rampage, he caught me with a punch, I went for a shot, full guard, which was kind of dumb and then he caught me with that punch that messed up my jaw so I was a little out of it at that point. I'm thinking at best it would have been 29-28 if the time ran out."
Since that loss, Brunson has won every, single time he's stepped into the Octagon while Romero has managed to do the exact same thing while working his way to title contention with his most recent win over Chris Weidman at UFC 205.
Of course that win came after Romero failed a drug test and faced a six-month suspension from the UFC. According to USADA, Romero was the victim of a tainted supplement but Brunson doesn't buy that excuse and he never will.
That's why Brunson so desperately wants to avenge his loss to Romero because he believes they weren't competing on an even playing field. Still, Brunson expects Romero to storm through Bisping to win the title, which would make the rematch that much bigger when they finally meet again.
"You've got (Michael) Bisping and (Yoel) Romero fighting for the title and if you ask me, Romero's going to win that fight," Brunson said. "Everybody else has not been wanting to fight Romero. I fought Romero. I was dominating him, he got lucky, then he failed a drug test.
"I believe in my mind if he wasn't on PED's (performance enhancing drugs) he wouldn't have been so explosive getting out of everything I put him in. Mounting him and he's just pushing out. I'm that guy to get that fight."
Brunson goes one step further when discussing the proposed title fight between Bisping and Romero by suggesting that the current champion might not want anything to do with the matchup.
That's not the case for Brunson, who makes it clear that Romero is the next person he wants to fight after he's finished with Robert Whittaker in Australia.
"I'm not taking anything away from Bisping. The guy's a great fighter, he's a very good fight and also I don't even know if they will fight. I think Bisping might try to fake an injury, maybe pull out of the fight, maybe somebody else will fight," Brunson said. "I'm going to be that guy. I'm going to make it known. Obviously, I've got to handle my business in Australia but it's going to be very documented and known that I'm adamant about getting a rematch with Romero.
"I'm definitely interested in fighting Romero at high stakes. I want to put him out in the first round and avenge that loss."