Bruins moving forward from 2010 playoff collapse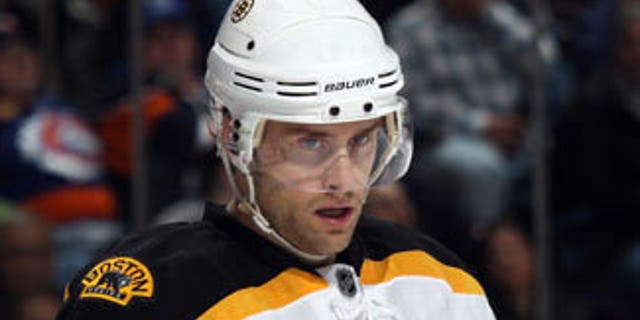 BOSTON -- With a berth in the Stanley Cup Playoffs already in their pockets and only 13 days left in the regular season, the elephant in the Boston Bruins' locker room is likely to surface again in the form of questions about last season's playoff collapse.
The Bruins, who host Chicago on Tuesday (7:30 p.m. ET, VERSUS, TSN2), have been able to hide from their historic flop against the Philadelphia Flyers because of the mini-soap opera that has surrounded this year's club. From a trip to Europe to Marc Savard's career threatening concussion to the Northeast Division race, and lately the Zdeno Chara-Max Pacioretty incident at Bell Centre, the Bruins have given the local media plenty of drama to write about.
They can't, however, hide from their past. And, don't kid yourselves -- nobody in this town has forgotten that the Flyers rallied in the Eastern Conference Semifinals to become only the third NHL team to win a seven-game series after losing the first three games.
A berth in this year's playoffs represents a chance for the Bruins to chase redemption as well as the Stanley Cup.
"We have a different team now and I believe we have a better team than we had last year," Bruins center David Krejci told NHL.com. "We just have to go out there and play every game, whether it's Game 7 or Game 1, and not think about what happened before or what could happen. If we just go out there and play the game, we should be fine."
The Bruins insist that's all they will do because, really, that's all they can do once the playoffs begin. They won't be playing the Flyers in the first round, so their minds won't be jumbled by the memories of last season's failure. They will be playing a good team, perhaps archrival Montreal in a series that would certainly take on a life of its own, or maybe the Rangers.
New York, of course, is a city that has a long-standing rivalry with Boston. Remember, the only non-NHL team to rally from a 3-0 deficit to win a series was the '04 Boston Red Sox, who toppled the New York Yankees in the American League Championship Series and went on to win their first World Series championship since 1918.
"I don't think (last year's collapse) is much of a story for the guys in here," Gregory Campbell, who was traded to Boston over the summer, told NHL.com. "It was a long summer for the guys I'm sure. I'm sure a lot of the criticism and questions were thrown at everybody after it happened. Now everybody is deserving of a fresh start and it's not going to do any good to look back."
Bruins coach Claude Julien sidestepped a question about whether he feels the need to address the playoff flop with his club one final time before this year's postseason begins. Julien instead said the Bruins are living in the moment, but can't let up just because they have already clinched a playoff berth.
Julien doesn't want the Bruins to carry any complacency into the playoffs so as not to open any of their wounds that were exposed to the world last May.
"From here on in we still have to maintain our level of play that we have had lately and try to improve on that," said Julien, whose club has won three of its last four games, giving up only three goals in the process. "There's no room for complacency now. We have lots of players and we're going to move some players in and out, but that's not because we're taking it easy, it's because we have to get ready to go. That's the message we gave the players.
"If we're not ready to play (Tuesday), there's a team that we're playing that will be. We can't afford not to be."
Krejci touched on something important, too, by mentioning the Bruins have a different team this year. He's right about that.
Thirteen of the Bruins expected to dress Tuesday night were a part of last year's club, but only 11 of them played in the fateful series against the Flyers. Tim Thomas rode the bench as Tuukka Rask's backup and Dennis Seidenberg was injured. Krejci played in the first three games against Philadelphia, but an injury knocked him out for the rest of the series.
Tyler Seguin was still in junior hockey while his linemates, Chris Kelly and Rich Peverley, were members of different NHL teams. Brad Marchand was in the AHL and Tomas Kaberle, Nathan Horton and Campbell were home because their former teams didn't make the Stanley Cup Playoffs.
"Obviously it's going to be there for a long, long time, but the best thing is to not think about it," Krejci said. "I don't think the players think about it now. Once we retire we might think about it, but now there is no point to go back to it."
Follow Dan Rosen on Twitter at: @drosennhl