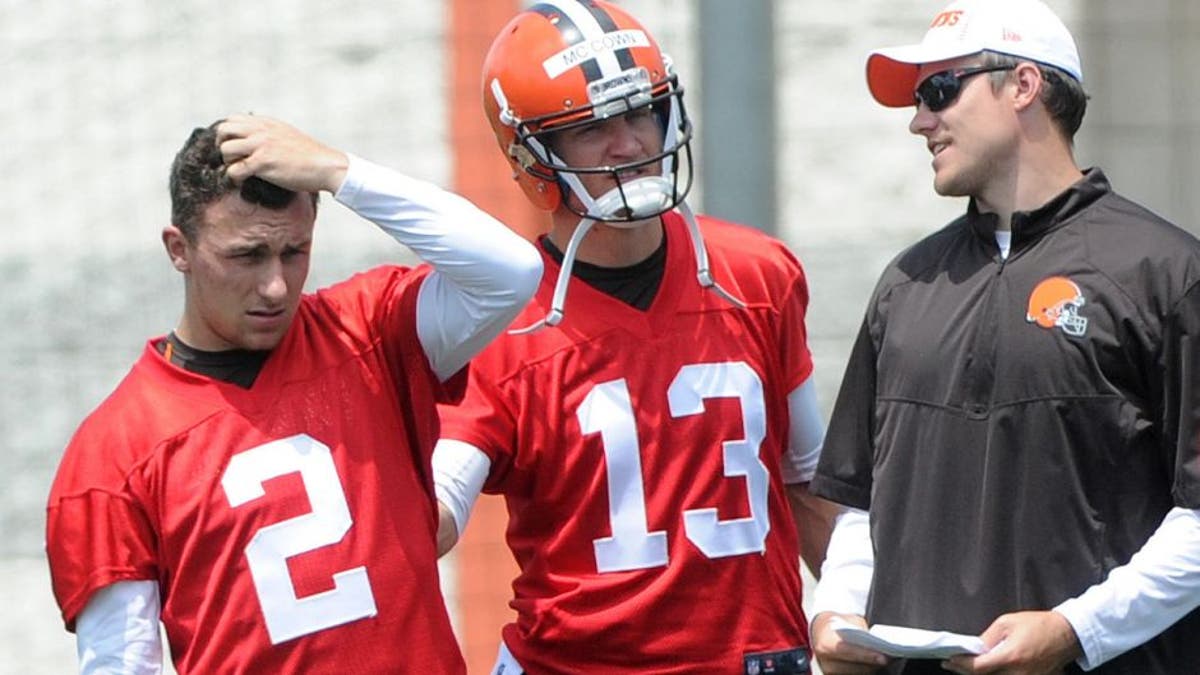 CLEVELAND (AP) Josh McCown doesn't view Johnny Manziel as a threat. That alone makes the Browns' quarterback situation much more stable than the mess they had last year.
A respected veteran with a golden reputation, but not many wins on his 12-year NFL resume, McCown was signed by Cleveland as a free agent to provide stability to their quarterback position and mentor Manziel, who couldn't control his Johnny Football persona and nearly partied himself out of the league as a rookie.
They share Texas roots, but McCown and Manziel have grown close in Ohio.
''Josh is a pro, he's been doing this a long time,'' Manziel said Thursday night following Cleveland's 20-17 exhibition loss to Washinton.
''I'm always watching and trying to learn from him. He's always giving me a lot of tips. I can hear him on the sideline even when he's out (of the game) and I'm out there.
''He has been very, very helpful, and it has been awesome having him around.''
McCown hasn't been officially selected as Cleveland's starter for the Sept. 13 season opener, but the 36-year-old has done everything coach Mike Pettine has needed and appears comfortable in new coordinator John DeFilippo's system.
On Friday, Pettine said he hasn't wavered from putting McCown No. 1 on the depth chart.
Against the Redskins, McCown finished 5 of 5 for 33 yards and threw a touchdown pass in his only series with Cleveland's first-team offense.
But even on the sideline, McCown kept working.
''He was poised, focused,'' Pettine said. ''He was into it. Even after that series, the whole rest of the game, he had the ear piece in, he knew the call, taking the mental reps on the sideline. He just showed tonight that he's the ultimate professional.''
Rewind to a year ago when Brian Hoyer and Manziel were locked in a day-to-day competition to win Cleveland's starting job. There was tension as Hoyer, the hometown kid playing for family and a new contract, tried to hold off the former Heisman Trophy winner. It wasn't healthy - for anyone - and the Browns recognized they couldn't have a repeat this summer.
McCown has embraced a teaching role with Manziel, who showed more signs of progress against the Redskins. He completed 7 of 11 passes for 42 yards and when Manziel recognized the Redskins were in man-to-man coverage the field opened up, he scored on a 12-yard run, the kind of play that made him famous in college.
''That was a layup for him,'' Pettine said.
Manziel remains an unfinished product, but he's more committed and McCown has been impressed with the 22-year-old's willingness to work on his craft.
''He always asks the right questions,'' McCown said. ''He's thirsty to want to get better. I've been around other quarterbacks who kind of had their idea about how they were going to do it and they didn't really listen to you or they just kind of nodded and moved on and did their own thing. But hats off to him. He's asking the questions because he wants to play the position the right way.''
This is what the Browns wanted, harmony not drama, a united quarterback room not one splitting at the seams.
McCown understands that he's a temporary fix, someone the Browns can rely upon while Manziel develops - or doesn't - and the team looks elsewhere for a franchise QB.
As he watched from the sideline Thursday night in his debut with Cleveland, McCown cheered, encouraged and did all he could to help his new team. While Manziel's career is just starting, McCown is nearing the end and he wants to savor every second.
''They didn't paint the field and light the stadium up for nothing,'' he said. ''I've been out of this game. So anytime you can be in a stadium and on a sideline full of guys, you don't know when it's your last snap and when it's your last moment.''
NOTES: CB Justin Gilbert, who was beaten on several plays by the Redskins, described his performance as mostly ''flawless.'' Pettine disagreed, saying ''he made that statement without having seen the film.'' ... Pettine expects QB-turned-WR Terrelle Pryor to practice Saturday after being sidelined with a hamstring injury. However, rookie RB Duke Johnson (hamstring) remains out and may not play Thursday against Buffalo. ... Pettine singled out rookies Danny Shelton, Xavier Cooper and Ibraheim Campbell for their performance in the exhibition opener.
---
AP NFL websites: http://www.pro32.ap.org and http://www.twitter.com/AP-NFL