Brook Lopez Helps Nets Top Pistons in Double OT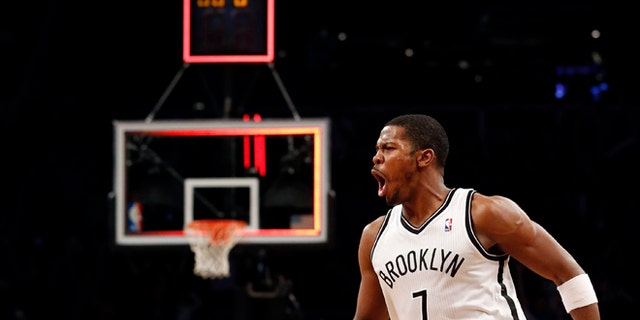 New York – A heroic shot just inside the arc by guard Joe Johnson in the closing seconds of a double overtime game clinched another win for the Nets, as the Brooklyn squad defeated the Detroit Pistons,107-105.
Johnson finished with 28 points for the Nets, scoring their final five in the second extra period. Gerald Wallace added 25 points and 10 rebounds.
Deron Williams scored 17 points and Andray Blatche had 16 for the Nets, who blew a 17-point lead, missed their first six shots in the second overtime, and still managed to win their second straight.
Brandon Knight scored 22 points and Rodney Stuckey had 19 for the Pistons, who dropped their third straight.
Detroit led 103-100 in the second overtime before Wallace drove into the lane to get the Nets on the board. Johnson put them in the lead with a basket in the lane, making it 104-103, and after Greg Monroe wasn't close on two free throws, Johnson added a free throw that made it 105-103 with 10.5 seconds left.
Knight missed a jumper, but the Nets' Kris Humphries tipped it right to Kyle Singler under the basket, who tied it with 5.8 seconds to go. The Nets got the ball into Johnson, who was well defended by Tayshaun Prince before stepping back for the long jumper that had to be reviewed to see if it was a 2-pointer or a 3.
Wouldn't have mattered. There was no time for another Detroit comeback.
Brook Lopez had nine points in 23 minutes for the Nets after missing seven games with a sprained right foot. Coach Avery Johnson said his leading scorer would be limited to about half the game, so Lopez watched the extra periods.
His return made an immediate difference for the Nets in the first half, but they couldn't keep the Pistons off the backboards down the stretch, allowing them to come back.
Monroe had 17 points for the Pistons, who surrendered a 21-1 run in the second quarter, wiped out the Nets' lead by the end of the third, went ahead in the closing minutes of the fourth, but couldn't hold on to give coach Lawrence Frank, a Jersey guy and former Nets coach, a victory in his first game in Brooklyn.
Based on reporting by the Associated Press.
Follow us on twitter.com/foxnewslatino
Like us at facebook.com/foxnewslatino