Brock Lesnar: 'I've got a statement to make' at UFC 200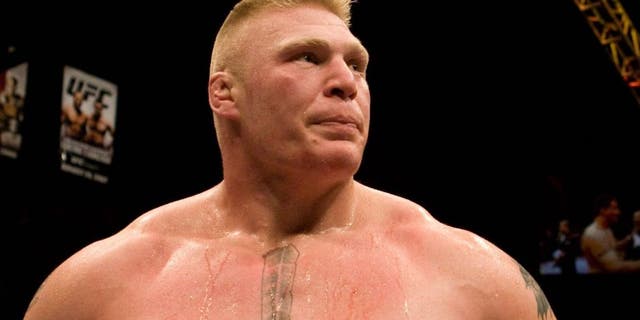 NEWYou can now listen to Fox News articles!
It was a highly unexpected announcement on Saturday night when the UFC confirmed that Brock Lesnar was coming out of retirement to return to the Octagon for at least one more fight.
When he called it quits in 2011, Lesnar was walking away from an already improbable run through the UFC where he became heavyweight champion after only three fights.
Unfortunately, Lesnar was also suffering silently through much of that time, struggling with two bouts of diverticulitis throughout his climb to the top of the heavyweight division.
In a new sitdown with his longtime friend and business partner Paul Heyman, Lesnar explained that all the swagger that he carried into the Octagon during his previous stint with the promotion was really putting on a brave face to cover his severe pain.
"When I was in the Octagon my last few fights, I believe I wasn't the man I needed to be. I was faking it. I was faking it just to be in there," Lesnar explained. "I was faking it that a disease was more powerful than me. I was faking that I was more powerful than it.
"I want to go back into that Octagon, I want to have fun. The lasting memories of me as an ultimate fighter aren't very good ones because of the discomfort and the pain and just the unhealthiness of it."
Lesnar never quite let go of his desire to fight again. So about three months ago he finally decided to pick up the phone and call UFC president Dana White to see if he was interested in having him back in the Octagon.
"I felt I needed to be in the Octagon to prove ... to beat this disease. And I ended up getting beat by foes that in my mindset I should have never lost to," Lesnar said.
Lesnar knew that if he was really going to return to the UFC, he had to do so knowing full well that the game has advanced since he last fought, and there was a real chance that he could lose again.
None of that trumped his own desire to fight again.
"Dana White didn't call me up for this. I made the phone call," Lesnar said. "You can't get into the Octagon half-assedly, nor would I make the call if I wanted to get in the Octagon half-assedly. I'm smarter than that. I know how dangerous it is. It's a dangerous sport.
"My head is in the game on this. I'm a 100-percent all in."
Lesnar fell in his last two fights in the UFC, losing to both Cain Velasquez and Alistair Overeem by TKO.
Between those losses, his battle against diverticulitis and his own competitive spirit that wouldn't let him walk away for good, Lesnar says he has something to prove when he faces Mark Hunt at UFC 200.
"I've got a statement to make and I'm going to come into this, I'm approaching this 100-percent. I'm all in," Lesnar said. "I'm a thousand-percent in on this.
"I've got lots of support. My family, my friends. It wasn't a hard decision."