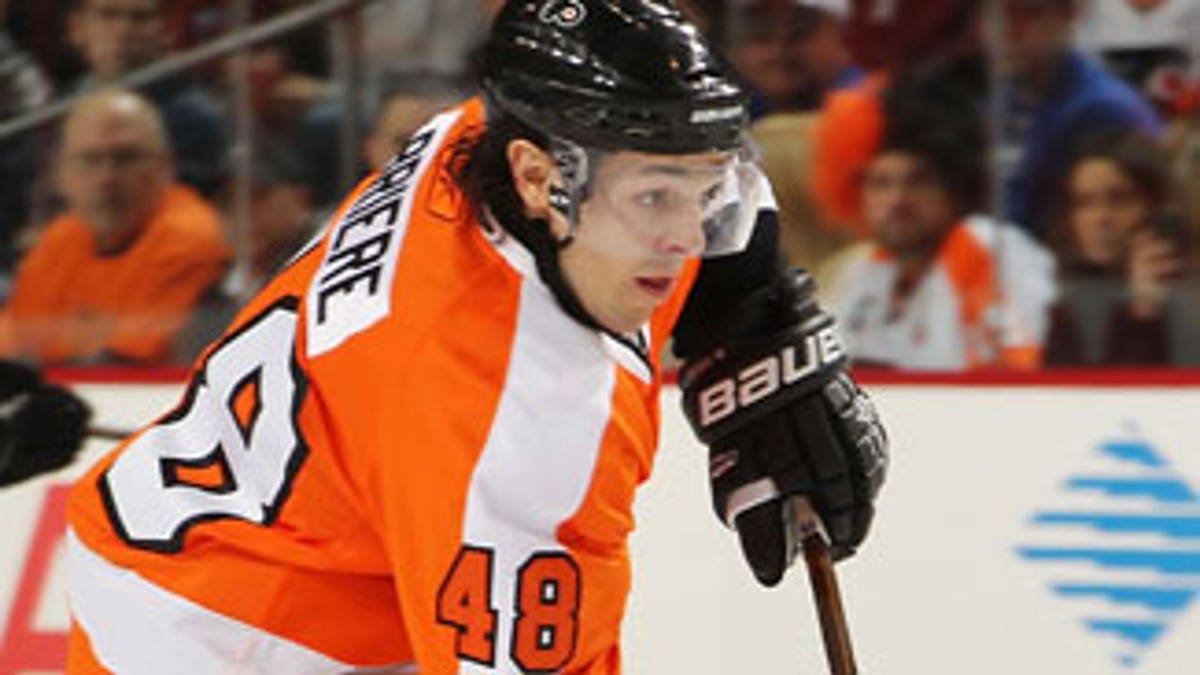 PHILADELPHIA -- Flyers center Danny Briere has nothing but fond memories of his playing days in Buffalo. It's the city where his career was rescued his career and the franchise that helped turn him from a twice-waived potential journeyman into an NHL All-Star.
Don't think, however, he doesn't want to win there in the worst way possible.
Briere arrives in Buffalo for Game 3 of this Eastern Conference Quarterfinal series having played more than a few games at HSBC Arena in four seasons since leaving the Sabres for the Flyers as a free agent in July 2007. This game, however, will be his first playoff game in the building he called home for four seasons.
"It's been a few years so it's a little different than if it were the first year after I left," Briere told reporters recently. "It's been quite some time now so it's probably not as crazy, but there's still a little something there. It's going to be special, there's no doubt about it. I'll be facing a lot of friends, but for a couple weeks there we'll have to leave that behind us. I'm definitely excited."
He'll have even more juice after scoring the game-winning goal Saturday in the Flyers' 5-4 Game 2 victory that evened the series.
Briere spent most of four seasons with the Sabres, who acquired him from the Coyotes on March 10, 2003, in exchange for Chris Gratton. In 225 games, he had 92 goals and 230 points, and helped the Sabres reach the Eastern Conference Finals in 2005 and 2006.
Those two seasons especially stick out for Briere, because they were the culmination of a group growing together and -- at least in that first season -- defying expectations.
"Take the first season after the lockout (2005-06); that season is always going to be special," Briere told NHL.com. "Everyone picked us to finish in the bottom two or three in the conference and we finished fourth and made the run to the conference final against Carolina. We kind of surprised the hockey world. People started giving us more respect."
The Sabres surprised no one the following season, finishing with 113 points and winning the Presidents' Trophy. They got back to the conference finals, but this time lost to the Ottawa Senators.
"The following year … that was a fabulous year, too," Briere said. "You win the Presidents' Trophy, that's a pretty big deal. That was special. Those two years were something special."
Briere had a team-leading 95 points that season, 10th in the League and a career best. After that season, however, he became an unrestricted free agent, and as he simply said, "(Buffalo) couldn't afford me."
He signed an eight-year contract with the Philadelphia Flyers, but not before a lot of deliberation.
"It was tough to leave because we were a tight group," Briere said. "When you win with certain teammates, you create tight friendships. I thought we were (close). It's too bad they dismantled that team. At the same time, it worked out great for me personally having the chance to come to Philadelphia."
Briere said his fond memories of the team and the club make this series far different than any previous one he's played in. It's harder in a way to battle this way with friends -- and he's got more than a few on that team -- but it's also a fun challenge.
"It's a little bit of both," he said. "It puts more pressure … but at the same time that's what we play for. We play because we want to be the difference maker. Most of us like the pressure, that's why we play hockey, that's why we're competitive. I think it's a little bit of both."
The fun part, though, came to an end in the days before Game 1. Goalie Ryan Miller talked about looking forward to stopping Briere because of the way Briere left Buffalo.
"We haven't talked and we won't speak," added Jason Pominville, another friend and former teammate. "The last game we played at home (April 8), we kind of shook each other's hands and said this might be the last time we talk to each other in a little while without knowing we were going to play them."
Briere takes all the little chirps in stride.
"I just got the quote today that Ryan Miller said it's a little bit of a payback because I left them," said Briere. "So that's a way I guess for him … Ryan is smart enough to know exactly what happened. But those are little jabs like that to get things going. Me and Pominville said we'll talk to each other in a couple of weeks. Whoever the loser is will probably want to wait an extra two weeks."
Pominville said he wasn't sure what kind of reaction Briere would get from Buffalo fans Saturday, but said, "I'm sure probably not the best reaction (but) I don't think it will bother him. Might help him. … I don't think it'll bother him that much. He might thrive off it, if anything."
He's certainly responded well in the six games he's played at HSBC the last four seasons, scoring 4 goals and adding 4 assists -- including 2 goals and 4 assists in two games there this season.
However, Briere isn't concerned with how he's received; he just wants to focus on winning.
"I think there's a little more on the table for me personally," said Briere. "Motivation obviously is easy to find because I played there for so long, I know a lot of the guys. I have lots of friends there on that team and around town."
Contact Adam Kimelman at akimelman@nhl.com. Follow him on Twitter: @NHLAdamK