Brendan Schaub officially steps away from fighting to focus on new endeavors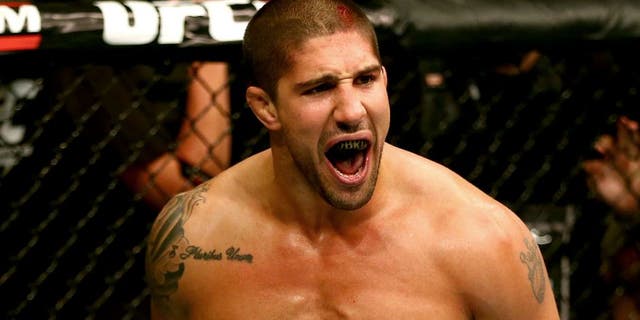 NEWYou can now listen to Fox News articles!
Some might say retirement, but Brendan Schaub calls it a 'positive promotion out of fighting'.
The 32-year old UFC veteran and former "Ultimate Fighter" runner-up is taking a step away from fighting to focus on his new career in the entertainment industry as well as continued work on "The Fighter and the Kid" podcast airing on FOX Sports.
Schaub hasn't competed since December 2014 and he's pondered his future in MMA for the past few months as he's started to see different projects get off the ground. Now Schaub is ready to officially make the announcement that as of now he's no longer planning to fight.
"Basically, I don't want to say anything was planned," Schaub told FOX Sports on Friday night. "I'd love to fight maybe one more time, but I didn't plan for this "Fighter and the Kid" stuff to take off like it has and entertainment and I landed a big gig on a major network, which I can't announce yet because we're still going through negotiations, but I did get the gig and with "The Fighter and the Kid" podcast and now we start shooting in November for "The Fighter and the Kid" video series and the live shows, we're actually doing a tour now. My first live show was last week at the Brea Improv, which was sold out, and our next one's sold out in Arizona."
Schaub said he actually got a call from his manager recently with a couple of papers for him to sign for the UFC and that's when it started to click in his head that taking a fight right now would actually hurt him more than help him.
His success outside the Octagon has flourished so much that financially speaking, not fighting will pay him more than actually signing for another bout.
"I got a call from my manager this morning, Lex McMahon, and he goes 'hey the UFC needs you to sign this Reebok thing for your name and likeness and I need you to fill out this paperwork for the drug testing' and I've been tested a million times and never taken anything, but it's just all that stuff came together and we've got to make a move here. He said 'I know your stance on Reebok' and I said 'there's no way I'm signing that thing, I'm not signing anything'," Schaub explained.
"He goes 'well you've got to do something here' and he said 'if the UFC offered you a fight right now what would you do?' and I said 'there's nothing I can do, it doesn't make sense'. Financially it doesn't make sense. Logistically it doesn't make sense. There's no way I could step away from all the stuff I have going on in entertainment, which was holding things up, because people were worried I was going to jump into camp so this was the right step. To step away and take a break or whatever you want to call it, take a break from the UFC."
Schaub's life outside of fighting is keeping him extremely busy these days and it appears his business endeavors are only going to get bigger and better over the next few months.
Add to that, Schaub has his first child on the way in the near future and admittedly stepping away from a sport that does a lot of damage to the body isn't a bad idea either while he's starting his family.
"Literally, I'm too busy with entertainment to think about anything else. No one knows this sport better than I do. I've been a fan of this sport since UFC 1 in Denver. I've followed this sport, I've been obsessed with this sport, I've trained with the best of the best and I've fought the best of the best. I beat some of the best of the best and I've lost to some of the best of the best," Schaub said.
"To have two feet in entertainment as well as I'm doing and to try and take on some monster right now and who knows who it would be, I just wouldn't do this sport a service. To say I'm completely out, that's tough, but for right now there's no way and I don't see it happening any time soon. But I will never say never."
The word 'retirement' is nearly impossible for any professional athlete to utter and Schaub is no different. He calls it the 'R' word rather than actually say it because of how tough it is to reconcile in his own mind that he might not ever step inside the cage again for combat.
The way he looks at it is he's managed to find a job he loves just as much as fighting that pays him well and keeps him busy without getting punched in the head and really, there's nothing wrong with that.
"I would say it's a positive promotion out of fighting," Schaub stated. "I was talking to my agent at CAA and my manager, Lex McMahon, and they said 'let's just go through the numbers'. It actually costs me money to fight and that's insane. It's insane, but I don't want that as a negative view, it's insane, but that's how well things are going.
"I made a good living in the UFC. This isn't a negative thing. I'll always love the UFC. I still do "UFC Now" and I love breaking down the fights and I never miss anything and if they need anything they know who to call."
Schaub never has a problem with giving his opinion on any subjects that come up and lately he's had a lot to say in regards to the Reebok deal the UFC signed recently that requires all fighters to wear a uniformed fight kit as opposed to shirts and shorts many athletes would don in the Octagon with paid sponsors footing the bill. Despite his reservations about Reebok or sponsorships in the UFC in general, Schaub makes it clear that he is, was and always will be a fan of the promotion and his time spent with them.
"I'll be forever in debt to the UFC," Schaub said. "I owe anything I have going on to the UFC and I think a lot of people think because I'm very outspoken and I speak my mind and I've never told a lie -- that's the one thing you can say about me is that I've never said anything that wasn't true, from the sponsor money to my negative view on Reebok, I've never said anything that wasn't true -- so I think that people see me as an anti-UFC guy but that couldn't be further from the truth."
Schaub says there's not much that could happen that would ever drag him back into another fight camp outside of doing it purely 'for the fans', but as of now he's moving onto a new life outside of MMA.
The one thing Schaub said in closing is a goodbye message to the people behind the scenes at the UFC, who were like family to him in the five-plus years he spent fighting in the promotion.
"I'll leave it on this -- I won't miss dealing with Dana White and Joe Silva, those guys are rock stars and Dana White makes a billion dollars a year and he's the Scrooge McDuck of the UFC, that's great, he has his own thing, but what I will miss are the people behind the scenes. The people who win, lose or draw, knockout or submission, they treated me f--king fabulous. They're the people who don't get recognition," Schaub said.
"Shanda with the social media team, Morgan who deals with appearances and marketing, Burt Watson, the make-up lady, just that whole circus, it's what makes the UFC, the UFC. The people dealing with the fighters fight in and fight out, those are the people I will 100-percent miss. No matter how stressful the situation was on fight week, those people actually gave a f--k and that's very rare in professional sports. So I'll miss them."
If Schaub has fought for the last time, he would leave the sport with a 10-5 record overall including a 6-5 mark in the UFC.