Brazil's Soccer Coach Guarantees World Cup Victory At Home Next Year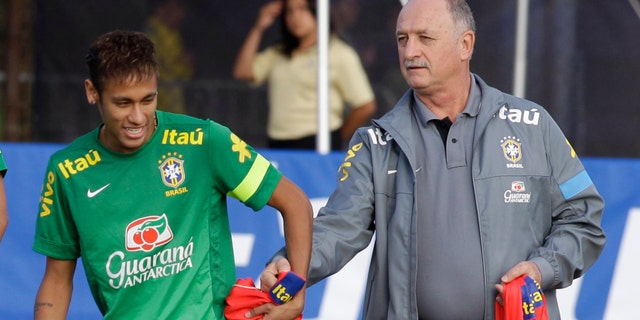 Sao Paulo – Luiz Felipe Scolari is confident of Brazil's chances at the 2014 World Cup, guaranteeing the team will win the tournament at home.
Scolari had been saying Brazil was among the favorites, but not at the same level as other teams. Now the coach has asserted after the 5-0 rout of Honduras on Saturday that his team will come away with the title next year.
"Brazil will be the champion," he said after the win in Miami Gardens, Fla.
Scolari won the 2002 World Cup with Brazil, which plays its last exhibition of the year against Chile on Tuesday in Toronto.
"I wouldn't accept to coach Brazil if I didn't think I could win the World Cup," Scolari said. "I took the job because I'm 100 percent sure that I will win the World Cup with Brazil."
Brazil will play one more match next year before Scolari selects his final squad for the June 12-July 13 World Cup, the first in Brazil since 1950.
The coach said his assertion doesn't come because of the victory over Honduras, which he said was harder than it looked, but rather because he understands the team's potential.
"Now we have a clear view about our team," he said. "Everything is in place already."
Scolari returned to the Brazilian national team late last year, starting slowly with disappointing results at the start of his tenure. But the team steadily improved and won the Confederations Cup with convincing performances.
The five-time world champion has won 11 of its last 12 matches. The lone loss came against Switzerland in an exhibition just after the World Cup warm-up tournament.
Scolari dismissed comparisons with the 2002 team that won the title in South Korea and Japan.
"This team is much younger team, it lacks the experience of that 2002 squad," Scolari said. "This group has a different dynamic and this type of dynamic is needed in football today."
Brazil's biggest star heading into the World Cup is 21-year-old Neymar, who recently moved to Europe to play for Barcelona.
Follow us on twitter.com/foxnewslatino
Like us at facebook.com/foxnewslatino