Braves GM Coppolella's first major move risky one in trading defensive wizard Simmons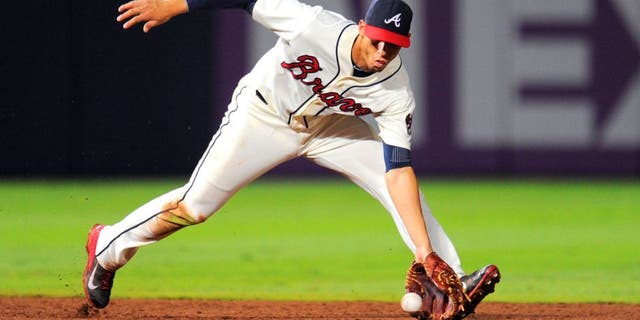 In terms of a first official deal as Braves general manager, it's hard to imagine John Coppolella pulling off anything more shocking.
Andrelton Simmons, the two-time Gold Glove-winning shortstop, who Wednesday received the Wilson Defensive Player of the Year Award, was traded a day later, shipped to the Angels in a five-player swap.
Coppolella already knows what you're thinking.
Less than a year after unloading Jason Heyward, Justin Upton, Evan Gattis and Craig Kimbrel, Atlanta has lost another one of its most recognizable faces in Simba, a perceived building block for its future and the reason babies are hoisted to the air in Turner Field while the 'Lion King' tune 'Circle of Life' blares.
The 37-year-old GM has a message.
"I am not afraid," Coppolella said by phone Thursday night. "Fans won't like this trade because they all love Simmons. I love Simmons too. He's fun to watch play. But we need more talent. We need to get better and this trade helps that happen."
Rumors started Wednesday night that the Braves were in talks with a National League West team, and considering Coppolella admitting after the season that the Dodgers wanted Simmons in the Hector Olivera deal, they seemed a logical fit.
They may have been among the teams in the mix -- there were 15 that the Braves spoke to -- but things only escalated with up to four of them. None of them, though, offered a big bat.
"Every single teams that called, the first words out of our mouths were 'We don't want to trade Andrelton Simmons and if we trade him we need to get exactly what we want,'" Coppolella said.
What they wanted was infielder Erick Aybar and pitching prospects Sean Newcomb and Chris Ellis, who Anaheim sent to Atlanta for Simmons and minor-league catcher Jose Briceno.
Newcomb -- a 6-foot-5 left-hander that had 168 strikeouts in 136 innings in 2015 -- is the game's 19th-ranked prospect per MLB.com, while Ellis -- 6-4 with a 3.90 ERA in 26 start last season -- was immediately plugged in as the Braves' eighth-best farm hand.
"It was really tough for us to us to trade away Andrelton, but we felt like we got so much talent back that we could not pass up this deal," Coppolella said.
What's undeniable is over the past three seasons, there hasn't been a better defender in baseball than Simmons.
His 77.5 defensive WAR over that span is more than 25 points higher than anyone else and with 94 defensive runs saved, he has 25 more than the next closest player (which happens to be Heyward).
But what's also undeniable -- and the long-standing narrative with Simmons -- is that his bat just hasn't caught up to that all-time glove.
Since his breakout year of '13, when he hit 17 homers, he's backpedaled, hitting seven in '14 and four this past season. While '15 did include a .265 average and .321 on-base percentage, which were his highest in any full major league season and he's never walked much, with a 6.1 career rate.
Coppolella was clear, though, that Simmons' offense -- or lack there of -- played no part in the level of return Atlanta expected for him.
"There were some teams that felt like they could sweep in and the fact that Andrelton wasn't hitting .300 or wasn't hitting.40 homers or anything like that, that they could get him at some sort of a lesser value," Coppolella said.
"We just wanted to show that we really value this player. We think he's a really good player and we wouldn't have sold low on him or trade him just to trade him."
Aybar, 31, was an All-Star in '14 and has hit at least 30 doubles in each of the past five seasons. The switch hitter had a .270/.301/.338 slash line this past year with 80 wRC+, but in the past three seasons he's had a positive dWAR just once, with a 14.6 in '14, and was at minus-0.4 in '15.
He can also become a free agent in 2017, while Simmons -- signed to a seven-year, $58 million deal -- is under club control until '21.
But for the here and now, Coppolella believes the risk is worth it given that Aybar brings what Simmons has yet to consistently deliver.
"You can make an argument that we are a team that can win more games with Aybar," Coppolella said. "He's a career .276 hitter and Simmons has never hit .276 in a full season. ... I think we traded defense for offense in this trade. The fact that we got two huge upside prospect arms is great. As far as 2016 I don't think this a big step back for this team."
Whatever impact Aybar makes, this was ultimately about further strengthening a farm system that entered the day ranked No. 2 by some services. Now? It may be the game's best.
To put into context how much the Braves have impacted their system in the last 12 months, eight of their top 10 prospects -- all but shortstop Ozhaino Albies and righty Lucas Sims -- were acquired in that span.
Albies, Coppolella said, could be up at some point in '16 despite his entering his age 19 season. But as for Opening Day, there will be a very different reality for the Braves at shortstop. It's one that, whether Simmons ever puts it together offensively in L.A. or not, or whether Newcomb and Ellis become key MLB pieces or not, will be tied to the nascent days of Atlanta's new GM.
Give John Coppolella this: he's already made his presence felt.
"If you want to start it out with a big trade, as it worked out that way for me ... I'm fine with that baptism by fire," he said.
Follow Cory McCartney on Twitter @coryjmccartney