Brandon Moreno blasts Dustin Ortiz with head kick, finishes with rear-naked choke at UFC in Nashville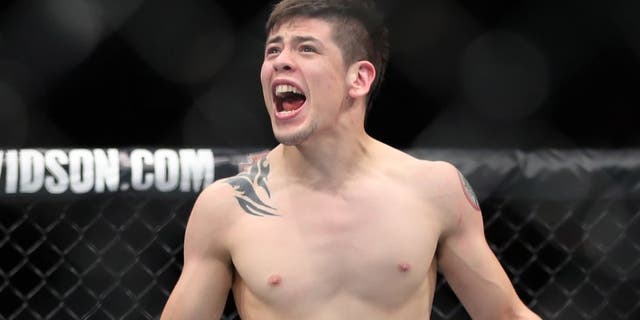 NEWYou can now listen to Fox News articles!
Brandon Moreno may have been rated as the No. 16 flyweight during his appearance on "The Ultimate Fighter" a season ago, but he's now 3-0 in the UFC following another stunning performance on Saturday night in Nashville.
Moreno actually got his opportunity to fight in the UFC when he stepped up on short notice to take on Louis Smolka last year after he was eliminated in the opening round on the reality show.
Moreno pulled off a shocking submission win, but he can no longer be considered an underdog after what he just pulled off against the No. 8 ranked flyweight in the world.
The first round saw Ortiz look to set the tone with a powerful clinch and stifling wrestling attack as he took Moreno to the mat on three occasions while attempting many more.
Moreno was hanging tough while resisting the takedowns, which clearly saw Ortiz exert a lot of energy during the opening round.
As the second round got underway, Moreno looked fast on his feet while Ortiz slowed down just slightly and it gave the 23-year old prospect the opening he needed.
Moreno uncorked a head kick that wrapped around Ortiz's neck, landing flush with speed and power, which sent the veteran flyweight crashing to the mat.
Moreno pounced on Ortiz looking to get the finish as he transitioned from punches to take the back before locking up the rear naked choke. Moreno latched onto the neck and it was clear that Ortiz wasn't going to escape as the fight was stopped at 4:06 into the second round.
The victory moved Moreno to 3-0 in the UFC while also likely moving him into the top 10 when the new rankings are released next week.
"Maybe not today and maybe not tomorrow or maybe not the next month, one thing is true," Moreno shouted to the crowd. "I will be champion one day. I promise!"