Boxing: Slow Week Still Packs Heat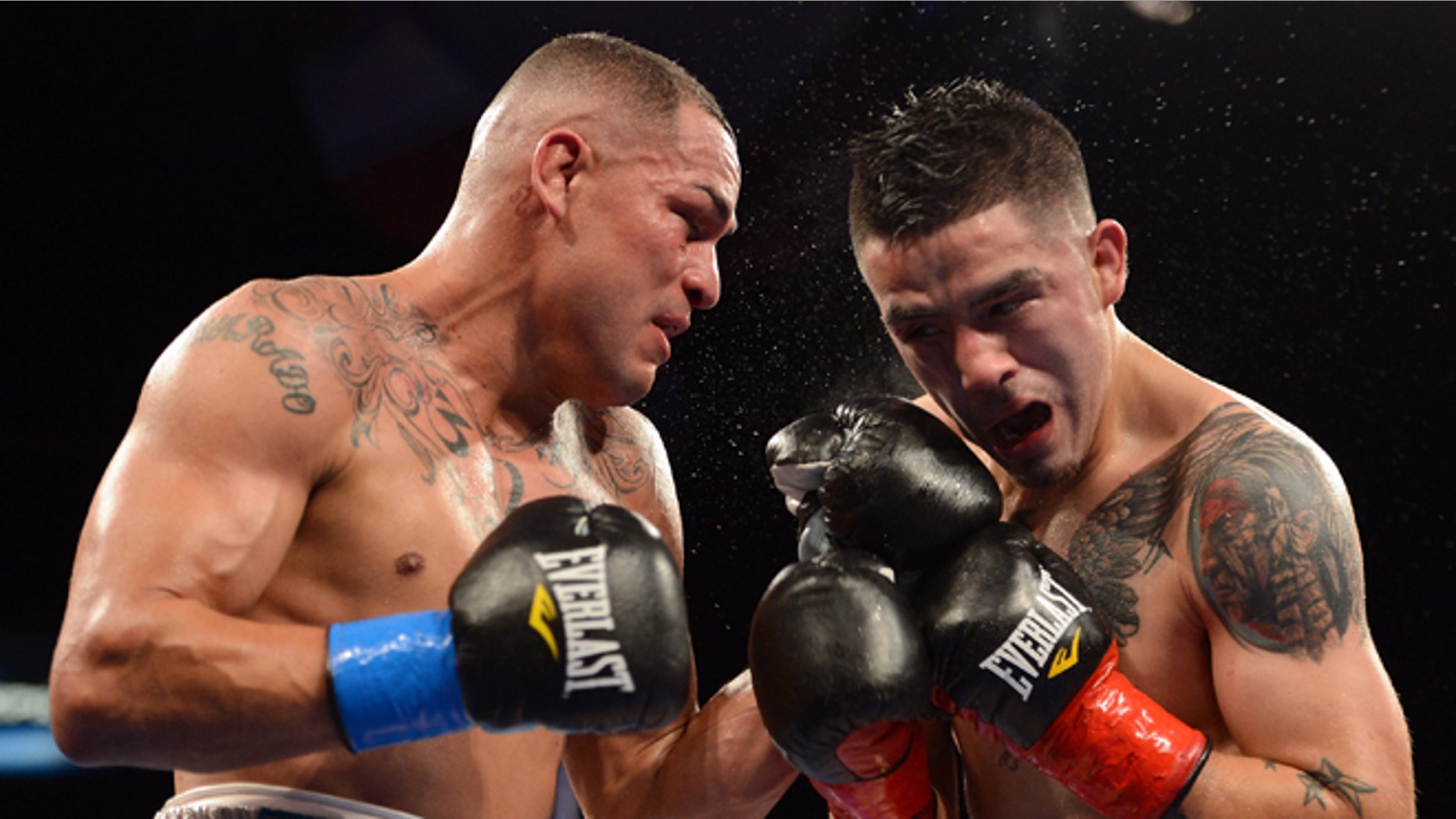 The past seven days have been a very slow news week in boxing. The only scraps to report are another "atypical" drug test and Robert Guerrero - who while scheduled to fight Floyd Mayweather on May 4 in the biggest fight of the year, managed to get arrested and put the fight in jeopardy.
In fact, sarcasm aside, boxing can always be relied upon to throw up the unexpected. The only thing consistent in The Sweet Science is its own unpredictability. But one thing that's a sure fire bet is when two combustible sluggers are placed in a ring to face each other - action is very much packed. It's something this weekend's fights undoubtedly will offer.
Brandon Rios - Mike Alvarado
If the true distilled art of boxing is "hit and don't get hit," then Rios and Alvarado have never been made aware of the latter part of that mantra. Few boxers in the sport are capable of delivering fan friendly fights on such a consistent basis as these two, and they will tussle in a seemingly blood soaked ring at the Mandalay Bay Casino this Saturday night on HBO.
For starters, their fight in October produced one of the unquestionable contenders for Fight of the Year. Alvarado's last three fights could be said to fall into the same category while Rios was the victor in their last encounter via a seventh round technical knockout. While some corners of the boxing community speculate on whether the second fight can live up to the first, the majority rightly see this possessing the potential of being an added chapter in a storied history between the two.
For Rios to emerge victorious a second time, he would need to bait Alvarado into a fire-fight, knowing that his chin and power are a noticeable notch above his opponent. As for Alvarado, the boxing skills he used to frustrate Rios last time round before being willed into a slugging contest are key for a win. Keep distance and victory can be his. But how likely is that? When two individuals are hard-wired for relentless attack mode only one can emerge victorious. Rios has been mentioned as a potential opponent for Manny Pacquiao in the past, and indeed it seems that his place is certainly amongst the welterweights where his style will attract the most fans.
"I love it. That's why I'm always smiling when I go back to the corner," he told ESPN. "People that never been in it, they get to go naturally from a man to a real man in the fight because everybody likes to see those type of fights, but they don't want to be in them."
As for Alvarado, a victory would ensure his name is on everyone's lips as much Rios's to contend for the biggest paychecks in future. Whether Rios and Alvarado become as synonymous with brutality and heroics in the ring as Micky Ward and Arturo Gatti, only time will tell – on Saturday.
Gennady Golovkin - Nobuhiro Ishida
Is there a greater catnip for fight fans than a boxer who possesses a complete disregard for defense and only has bomb throwing, knockout dealing intentions? Gennady Golovkin will likely be a star in the coming year, mainly because all he likes to do is render his opponents unconscious, giving the ringside judges the easiest of nights.
Golovkin has ended 22 of his 25 career fights within the distance. Better still, Golovkin is desperate to stay active. In an era when top tier fighters try to scrape together two engagements at most, Golovkin decided to go to Monte Carlo and fight Japanese middleweight Ishida while waiting for his next HBO appointment in June.
Chances are remarkably high that Golovkin will emerge victorious. Ishida is notorious for possessing next to no power, relying on boxing skills and distance to get wins on his record. As for Golovkin, the battering-ram approach will likely prove fruitful once more as he bombards his foe with overhand rights and hooks to end the bout early.
This weekend promises to be one of the best of the year for fight fans. Let's hope promises are fulfilled.