Bowl practices giving Arkansas an opportunity to evaluate young QBs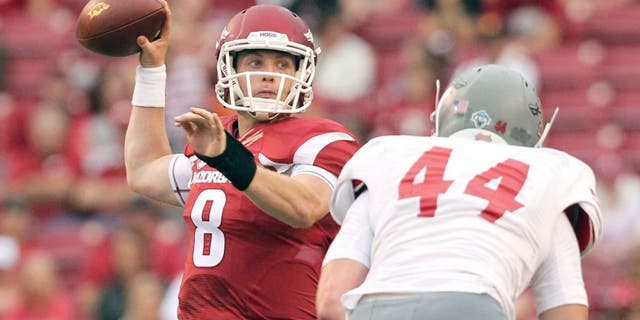 Just when Arkansas quarterback Brandon Allen had begun to endear himself to Razorback Nation, the senior will have used up all of his eligibility following the Liberty Bowl. With Allen's place as starter cemented, the extra bowl practices have allowed the coaching staff an early evaluation at the younger quarterbacks on the roster.
Which quarterback will eventually replace Allen? The first opportunity will likely be given to his younger brother, redshirt sophomore Austin Allen. But with redshirt freshman Rafe Peavey and true freshmen Ty Storey and Ricky Town also on the depth chart and competing for reps, the outlook is currently murky at best.
Razorback head coach Bret Bielema recently gave his thoughts on the young quarterbacks based on their bowl practice performance.
"On days we have full team practice, we've got B.A., Austin, all the quarterbacks out there," Bielema said. "Then, for the most part when we've been doing developmental practices, I've kept Austin out of it. When we do no seniors. We've done two or three of those where I wanted Austin to be the guy out there talking in the huddle talking and communicating and he handled it really, really well. But has had some mistakes, we definitely need to get some things corrected.
"Ty had a nice touchdown throw here at the end of practice today. It was a nice throw. But two throws before that he had a bad one. Rafe has a tendency to hold on to the ball too much. But on the same account, he made a couple of nice throws. Ricky's got a live arm, stepped up in the pocket and threw a nice third down pass but also fumbled the ball on a normal running back exchange. So there's good, there's bad."
Offensive coordinator Dan Enos echoed Bielema's sentiments on the young, mistake prone players.
"Just really inconsistent," Enos said. "It's hard to get consistency with all the players we have out there at different times. It's tough to get a good read in their development. We certainly have got a lot of work to do."
"I think when you've been in the pocket and had to do stuff, I think when you've done it before, there are experiences you've gained that you can't gain unless you played the position. You can sit there as a coach and talk all you want about this and that, but if you've never had to do it, sometimes you don't really know how hard some of the things are to do."
Expect the naming of the starting quarterback to the be the major question mark heading into the offseason for Arkansas as the competition is likely to go into fall camp.