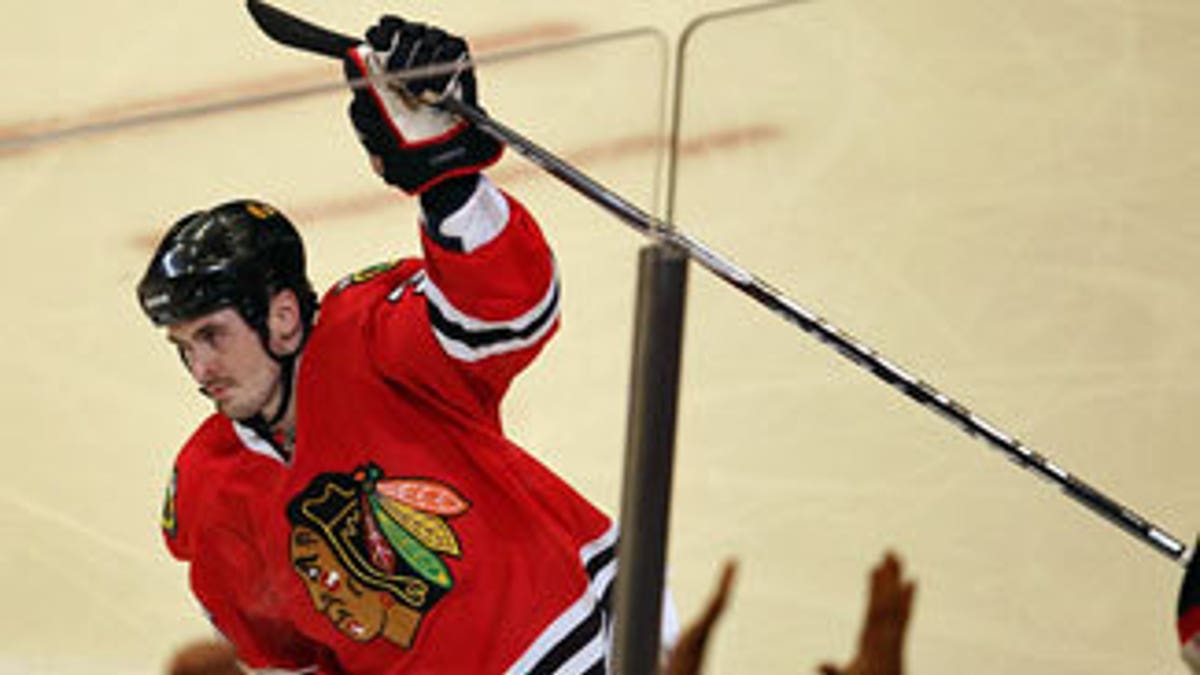 If there were a Conn Smythe Trophy for the first round of the playoffs, Chicago's Dave Bolland would be a runaway winner -- even though he missed the first three games.
The Hawks looked like they were on the way out after they lost the first three games of their series with Vancouver -- all without Bolland, who missed the last month of the season with a concussion. But Bolland returned for Game 4, and the series made a 180-degree turn. He had a goal and 3 assists in Chicago's 7-2 win in Game 4, helped shut down the Sedin twins in a 5-0 win in Game 5, then set up Chicago's first goal and scored the second in Sunday's 4-3 OT win in Game 6.
Bolland's tally: 2 goals, 6 points, and a plus-6 rating -- and three wins by the Hawks, forcing the series to a seventh game on Tuesday.
Five up -- Five players who've been hot in the first round of the postseason:
Michal Neuvirth -- The one area the New York Rangers figured to have an advantage against Washington was in goal, where NHL shutout leader Henrik Lundqvist was matched against Neuvirth, a rookie. But Neuvirth outplayed Lundqvist, allowing just eight goals in the five-game series victory -- continuing his personal streak of never losing a playoff series.
Teemu Selanne -- The Anaheim Ducks are headed home for the summer, but not because of a lack of production from Selanne, who at age 40 shows no signs of slowing down. Selanne leads all goal-scorers with six, the most he's ever had in a single playoff round, and finished with 7 points in six games.
Danny Briere -- The former Sabre, now with Philadelphia, has been torturing his old club. He scored twice on Sunday, giving him 5 goals in his last five games.
Ryane Clowe -- After getting 3 assists in San Jose's series-opening victory, Clowe added a pair of goals in the Sharks' come-from-behind 6-5 OT in Game 3 against Los Angeles -- then had two more in a 6-3 win in Game 4.
Jordin Tootoo -- Tootoo, known more as an energy player, was a big offensive contributor for Nashville in its first-ever playoff win, getting a goal in Game 3 and a pair of assists in Games 5 and 6 -- his drive to the net in the third period of Sunday produced a rebound that Nick Spaling banged into the net for the series-winning goal.
Five down -- Five players who have struggled:
Brad Boyes -- The Sabres acquired Boyes to boost their offense -- but he has yet to produce anything in the playoffs. He's had 12 shots but no points in six games.
Antti Niemi -- Niemi helped carry the Sharks to the playoffs, but he's had a tough time in the postseason. He got off the hook for one loss when the Sharks rallied to win Game 3 after he surrendered four goals in less than 21 minutes, then got hooked in Game 5 on Saturday after allowing three quick first-period goals.
Ilya Bryzgalov -- After another fine regular season, Bryzgalov had a postseason he'd like to forget. He was in goal for all four games as Detroit swept Phoenix, allowing 17 goals on 140 shots and giving up at least four goals in each game.
Roberto Luongo -- Luongo's struggles in Vancouver's 7-2 and 5-0 losses to Chicago led to Vancouver coach Alain Vigneault opting to start Cory Schneider in Game 6 -- but Luongo wound up taking the loss anyway when he allowed a goal in overtime after coming on in relief when Schneider was injured.
Shane O'Brien -- The Nashville Predators don't rely on O'Brien for offense, but they beat Anaheim despite his proclivities for being in the wrong place at the wrong time. O'Brien took seven minor penalties during the series -- and was in the penalty box for five of the Ducks' eight power-play goals (four by himself, the other for a 5-on-3 goal).
Injuries, news and notes -- What's the best thing about a sweep? If you're the Detroit Red Wings, it's getting a week off to let some of your injured players heal. The Wings swept Phoenix without Henrik Zetterberg, who missed the whole series with a lower-body injury. They hope a week or more off will let him be ready for Round 2.
Out -- In addition to Zetterberg, the Wings were without Johan Franzen for Game 4 due to face and ankle injuries. They hope he'll be ready to go in the second round. … Vancouver goaltender Cory Schneider left Sunday's game with an apparent leg injury, and defenseman Sami Salo departed in the first period due to an undisclosed injury. … Nashville's Martin Erat missed Games 5 and 6 with an upper-body injury. … Washington defenseman Mike Green was hit in the head by a shot on Saturday and didn't play any more, though he did return to the bench. Forward Mike Knuble sat out the last two games against the Rangers with what's believed to be an injured right hand. … Buffalo lost forward Jason Pominville with a lower-body injury in the first period of Game 5 on Friday. … Flyers center Jeff Carter missed the last two games with a knee injury, and Andreas Nodl also sat out with a facial injury.
Returning -- Philadelphia dressed defenseman Chris Pronger for Sunday's game, though he played just 4:33, all on the power play. Pronger hadn't played since breaking his right hand on March 8 and undergoing surgery. … Los Angeles forward Scott Parse played Saturday, his first game since undergoing hip surgery on Nov. 15. … Chicago defenseman Brent Seabrook was back in the lineup on Sunday after missing Games 4 and 5 with an upper-body injury after a hit by Vancouver's Raffi Torres. … Montreal center Jeff Halpern returned Thursday after missing the first three games of the Canadiens' series against Boston with a lower-body injury.
Still out -- Detroit goaltender Chris Osgood is practicing again as he works to return from sports hernia surgery that has kept him out since late January. … Buffalo hopes forward Derek Roy, out since December with a leg injury, might be able to play in Game 7 against Philadelphia or in the next round if the Sabres get that far. … Evgeni Malkin has been doing some light skating in Pittsburgh, but Penguins coach Dan Bylsma went out of his way to tell the media that Malkin won't play until the fall. … Washington defenseman Dennis Wideman (leg) is skating, but there's no timetable for his return. Caps defenseman Tom Poti (groin) also missed all of the first-round series against the Rangers. … Nashville forward Cal O'Reilly (broken leg) hasn't played since January but might be able to play in the second round. … Chicago's Tomas Kopecky hasn't played since leaving Game 1 against Vancouver with an upper-body injury.
The week ahead -- The new week begins with five of the eight first-round series still in progress and at least two guaranteed to go seven games. The conference semifinals will begin this weekend.
Games to watch: (April 25-May 1):
Pittsburgh at Tampa Bay (April 25) -- The Lightning get a shot at extending their series to seven games -- but to do so, they'll have to win a home game, something they failed to do last week. A win sends the series back to Pittsburgh on Wednesday.
San Jose at Los Angeles (April 25) -- The Staples Center will be rocking as the Kings return home after stunning the Sharks at San Jose in Game 5 on Saturday. If the Kings can win a home game -- something they failed to do last week, Game 7 is at the Shark Tank on Wednesday.
Boston at Montreal (April 26) -- A win will give the Bruins their first win in 27 best-of-seven series in which they lost the first two games. A loss will send the series back to Boston for Game 7 on Wednesday.
Buffalo at Philadelphia (April 26) -- The road team has won four of the six games in this series, including overtime wins by Buffalo at Philadelphia in Game 5 and the Flyers in Buffalo on Sunday afternoon.
Chicago at Vancouver (April 26) -- The Canucks hope returning home will help them avoid becoming only the fourth team in NHL history to lose a playoff series after winning the first three games.