Bisping vs. Henderson official, UFC 204 loses a fight due to weight cutting disaster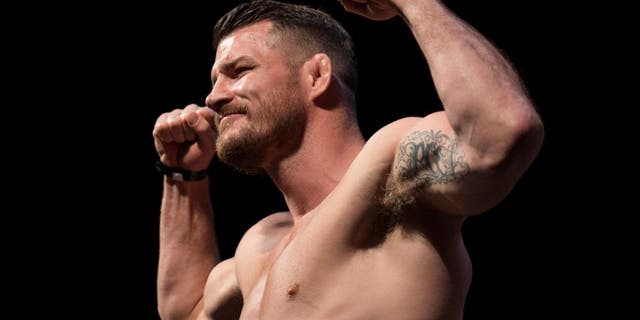 Michael Bisping and Dan Henderson both made championship weight for their main event showdown at UFC 204 on Saturday night.
The UFC held early weigh-ins on Friday in Manchester, England with both champion and challenger hitting the mark ahead of their rematch after first meeting in 2009.
For Henderson, this will be the final time he will ever weigh-in after announcing that win, lose or draw on Saturday night, he will be retiring from the sport. Henderson looks to add the UFC middleweight title to his Hall of Fame resume that already includes two belts from PRIDE Fighting Championships and another from Strikeforce.
Henderson hit the scale at 184 pounds while Bisping came in at exactly 184 pounds to make their fight official.
Sadly, UFC 204 did lose another fight on Friday after local favorite Ian Entwistle was forced off the card at the last minute following a disastrous weight cut that ended with him in the hospital.
Entwistle was pulled from his bout with Rob Font following the trip to the hospital as UFC officials later confirmed and the fighter explained what happened in an Instagram post on Friday.
"Had some problems with my weight very early in to the weight cut. I slipped in and out of consciousness during the bath, was took to hospital, administrated IV and some other drugs," Entwistle said. "The UFC staff was great all the way through they came to the hospital, I said I could still fight and asked if we could do a same day weigh-in and (Rob Font) took a big percentage of my purse.
"It seemed positive at the time. The UFC spoke to the doctors and they went to consult with there own doctors. I got a phone call from Joe Silva this morning explaining he couldn't let me fight due to the problem with my kidneys which I have to accept. I would like to apologize to the UFC and Rob Font and everyone that was looking forward to seeing the fight."
Entwistle also stated after this latest experience weight cutting that he questions if he will ever put his body through that again before deciding to fight again.
Font will serve as a backup for the event just in case another bantamweight fighter is unable to compete on Saturday night.
Here are the rest of the results from the UFC 204: Bisping vs. Henderson 2 weigh ins:
MAIN EVENT: Michael Bisping (185) vs. Dan Henderson (184)
Vitor Belfort (186) vs. Gegard Mousasi (185)
Jimi Manuwa (205) vs. Ovince Saint Preux (205)
Daniel Omielanczuk (239) vs. Stefan Struve (265)
Mirsad Bektic (144) vs. Russell Doane (145)
UFC 204 PRELIMS ON FS1 (8 p.m. ET)
Iuri Alcantara (136) vs. Brad Pickett (136)
Davey Grant (135) vs. Damian Stasiak (135)
Leon Edwards (169) vs. Albert Tumenov (169)
Marc Diakiese (156) vs. Lukasz Sajewski (156)
EARLY PRELIMS (7 p.m. on UFC Fight Pass)
Mike Perry (170) vs. Danny Roberts (170)
Adriano Martins (155) vs. Leonardo Santos (156)