Bills' Sammy Watkins: 'Nobody can mess up' against the Patriots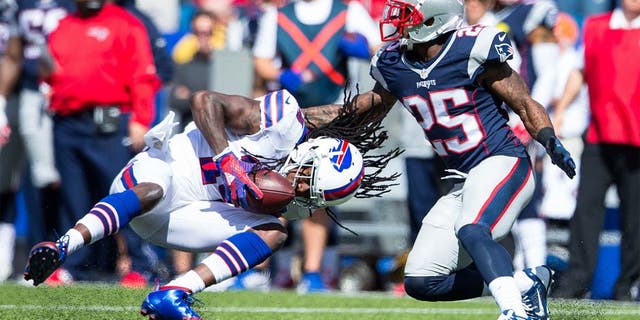 Sammy Watkins says the Bills have to be near-perfect to beat the Patriots. Brett Carlsen Getty Images
The Bills are set to take on the Patriots for the second time this season, hoping to avenge a Week 2 loss and put the first blemish on New England's record. That won't happen if mistakes are made, according to Sammy Watkins.
The Bills weren't perfect against the Patriots back in September, falling 32-40. But both teams are different now. The Patriots have lost Dion Lewis, Julian Edelman and Nate Solder for the year, leaving them without three key players on offense. The Bills, on the other hand, are healthy and have Tyrod Taylor, LeSean McCoy and Watkins playing at a high level.
Even with their talent on offense, though, Watkins knows how important it is to avoid mistakes.
"Going against the New England Patriots you got to really watch a lot of film on those guys," Watkins said via the team's site. "Those guys are so good at what they do, you got to really know what you are doing. Nobody can mess up, everybody on the field, got to be on the right page, all 11 guys got to be prepared. You got to eliminate all the mistakes, and go out there and play fast and play hard because they are going to do the same thing."
In their first matchup, Watkins caught six passes for 60 yards and a touchdown. Now, Malcolm Butler is playing with a ton of confidence after a great game against Odell Beckham Jr. and has proved to be a No. 1 corner.
MORE NEWS: Want stories delivered to you? Sign up for our NFL newsletters.
If Watkins wants to help the Bills beat the Patriots, he'll have to win his matchup with Butler and give Taylor an open target to throw to.