Bengals coach Marvin Lewis says Hue Jackson still calls him at 5 a.m.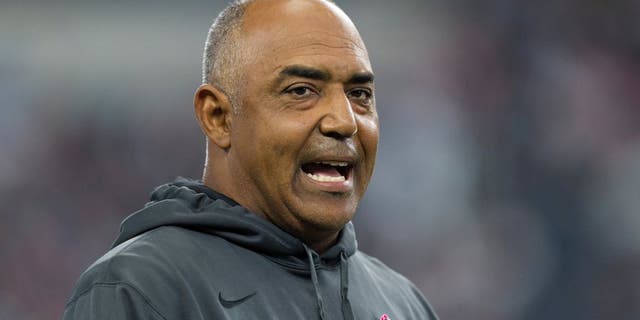 The Cincinnati Bengals have been a massive disappointment this season, just one year after winning the AFC North with a 12-4 record. They've already lost as many games this season through six weeks and sit just two games ahead of the 0-6 Cleveland Browns in the division.
Both sides of the ball have struggled for the Bengals, but the offense has been especially stagnant. Cincinnati has just 539 rushing yards despite boasting a two-headed monster at running back in Giovani Bernard and Jeremy Hill. Quarterback Andy Dalton has played fairly well, but given the unbalanced nature of the offense, the Bengals are struggling to put up points.
They rank 29th in points per game (18.2), leading to their 2-4 record. Hue Jackson, who was the team's offensive coordinator for two seasons, left to become the Browns' head coach, and Marvin Lewis admits his absence has had an impact.
"I miss the hell out of him,'' Lewis said at his press conference Monday, via Cleveland.com.
Lewis said the two still talk fairly often, but this week will be different with the Bengals and Browns squaring off Sunday.
"Not this week," Lewis said when asked if they still talk. "When my phone rings at 5 o'clock in the morning, I know it's only one person. It's not Chad (Johnson), either. It's Chad's former coach, Hue. I watch their games every week, and text or call him. He's coaching his tail off, as we knew he would."
As bad as the Bengals have been this season, Jackson's Browns have been even worse. They have yet to win a game with Jackson at the helm, though it's not entirely his fault. The Browns have dealt with injury after injury at quarterback, which is obviously something neither he nor his players can control.
Surprisingly, though, the Browns' offense has been nearly as good as Cincinnati's, if not better. They're averaging more points per game (18.8) but trail the Bengals in yards per game, 365-348. The Lewis-Jackson duo was almost dominant in Cincinnati, and neither is nearly as good when apart.