Ben Roethlisberger has Tom Brady's jersey hanging in his office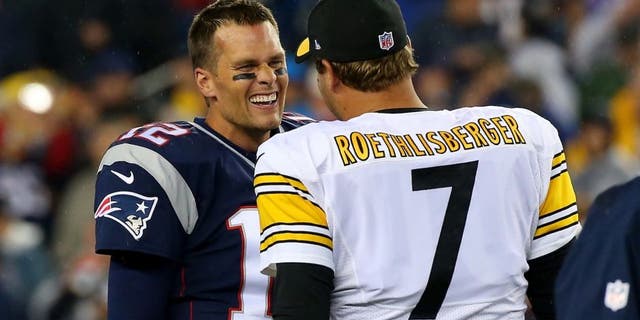 NEWYou can now listen to Fox News articles!
Ben Roethlisberger and Tom Brady are two of the best quarterbacks in the league, and it's been proven time and time again with their success each year. They'll meet in the AFC title game this Sunday in what figures to be a great matchup between two of the top franchises in all of sports.
In their first meeting this season, Roethlisberger was unable to play. He did share a moment with Brady, though, and asked him for one of his jerseys. He received that jersey, and he now has it hanging in a very special place: his office.
"I hate that those things get taped and [heard] because it wasn't meant for that," Roethlisberger said on a conference call, via ESPN. "I have it hanging in my office. I have a lot of respect for him; I think that's very well known. I think he's one of, if not the greatest, quarterbacks of all time."
Roethlisberger said Brady's jersey is up there with some of the all-time greats that are also hanging on his walls.
"It's been an honor to play against him, to call him a competitor, and so I put it up in my office with the likes of the Marinos and Elways and Kellys and things like that."
While Roethlisberger is undoubtedly one of the best to ever play quarterback, he won't put himself up there with Brady. He said as much on Wednesday when asked if he's the "gold standard" of quarterbacks like Brady.
"Not at that level," Roethlisberger said, referring to the Patriots' championships.
This could wind up being one of the best conference title games of all time with plenty riding on Sunday's showdown.