Ben Curtis can only chuckle after dismal day at the Open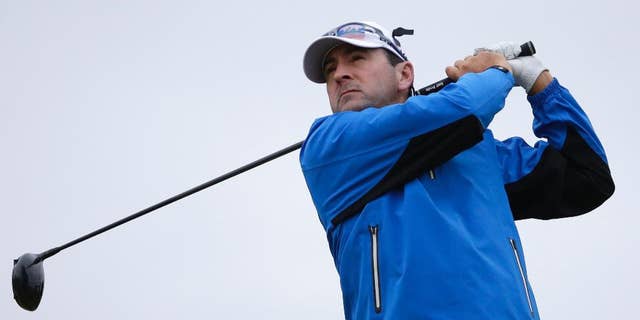 NEWYou can now listen to Fox News articles!
TROON, Scotland – Former British Open champion Ben Curtis managed a chuckle when he came off the course with a 10 on his scoreboard.
He wasn't in such a good mood a few hours earlier, when he knocked his ball in three different bunkers on the way to a sextuple bogey.
"I wanted to go jump in the ocean," Curtis said with a weak smile.
His troubles began when he drove into a fairway bunker at the 377-yard third hole, the second-shortest of all the par 4s at Royal Troon.
Curtis had a decent lie in the sand and thought he could possibly get it to the front of the green, but that was far too optimistic for a player whose game has been in disarray. His shot clipped the lip of the bunker, the ball plugging when it fell back in, leaving him with no real shot. It took two more swings just to get onto the fairway.
Turns out, there was more havoc to come. Curtis dumped his fifth shot in a bunker in front of the green, needed two more swings to escape that patch of sand — only to watch helplessly as the ball rolled into another bunker behind the green. He finally got the next one to stay on the short grass and two-putted for his 10.
"You've got to stay out of them," he said of the devilish bunkers dotting the links course. "I should have just chipped out the first time. But when you're 6 over, you need to make some birdies."
With no chance to make the cut, Curtis meandered through the rest of a rainy round with seven bogeys on the next 14 holes, before a birdie at No. 18 left him at 12-over 83 — his worst Open round ever.
Curtis finished a most forgettable week with a cumulative score of 18-over 160, missing out on the weekend for the third year in a row and seventh time in the last eight years.
"This is typical of how I've been playing all year," he said. "The motivation, the heart, it kind of goes out you (after a 10). At that point, you just want to finish."
Since his improbable win as an Open rookie in 2003, Curtis has missed the cut 10 times and hasn't finished higher that a tie for seventh in 2008.
He can take some solace from his Troon debacle.
"I won't be the last person to ever do that in the Open," he said, "maybe not even today."
___
Follow Paul Newberry on Twitter at www.twitter.com/pnewberry1963 . His work can be found at http://bigstory.ap.org/content/paul-newberry .