Bears Wide Receiver Hurd Arrested on Federal Drug Charges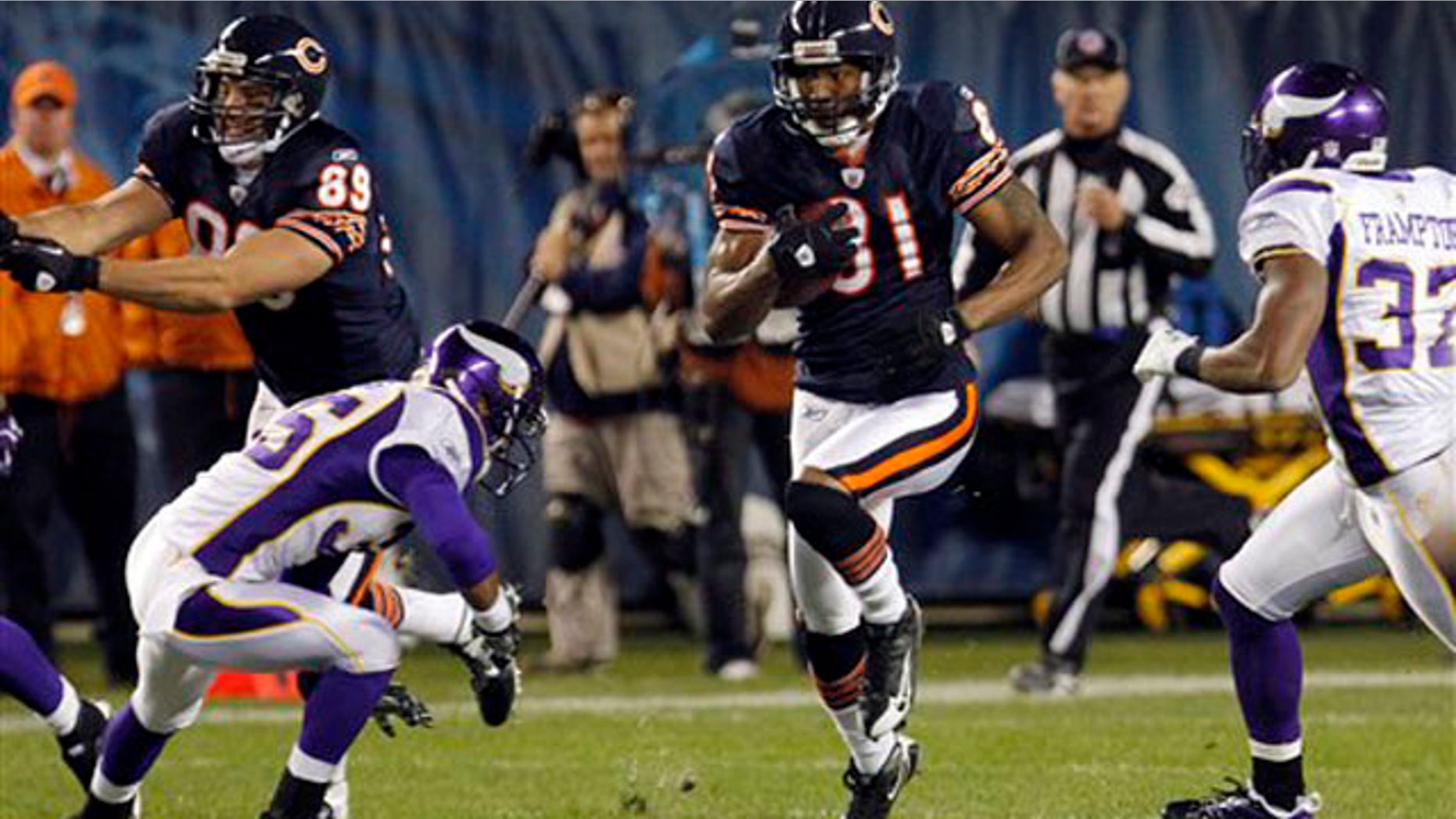 DALLAS – Chicago Bears wide receiver Sam Hurd was arrested on federal charges of trying to purchase large quantities of cocaine and marijuana for distribution.
Hurd, 26, was arrested Wednesday night in Chicago after meeting with an undercover federal agent and a confidential informant, according to the criminal complaint filed in Dallas.
Hurd is accused of trying to buy up to 10 kilograms of cocaine and a half-ton of marijuana on a weekly basis to sell in the Chicago area. He was allegedly seeking to buy the drugs through a co-conspirator in the Dallas area, who had been negotiating the deal with the confidential informant since late July.
At the meeting Wednesday night at a Chicago restaurant, the criminal complaint alleges that Hurd offered to pay $25,000 per kilogram of cocaine and $450 per pound of marijuana.
"Hurd further stated that he and another co-conspirator currently distribute approximately four kilograms of cocaine per week in the Chicago area, but that the supplier could not supply him with enough quantity," the complaint stated.
Hurd also is alleged to have asked about obtaining cell phones from Mexico because he believed authorities could not eavesdrop on the devices.
Hurd left the restaurant with one kilogram of cocaine and was arrested. Hurd is being held in custody and is scheduled to appear in court later Thursday for a hearing on his transfer to Dallas, where the charges were filed, the Chicago Tribune reported.
The case is being handled by the US Bureau of Immigration and Customs Enforcement in Dallas.
Hurd was described as one of the top few drug dealers in Chicago, according to local radio station 670 The Score, which cited a "drug enforcement officer working on the case." The station also reported that authorities have a list in "the double digits," of NFL players who had bought drugs from Hurd.
Hurd, who played for the Cowboys from 2006-10, signed a three-year contract worth up to $5 million with the Bears in the summer. He received a $1.35 million signing bonus and was being paid $685,000 this season.
"We are aware of Sam's arrest and are continuing to gather details surrounding it. We are disappointed whenever these circumstances arise. We will deal with them appropriately once we have all the information," the Bears said in a statement.
His Bears teammates expressed surprise about the situation Thursday.
"It's a situation I don't want anyone to be in, especially a close friend, a teammate that I have been playing with now for four or five years now, especially a guy from Texas with a wife and daughter," said wide receiver Roy Williams, who previously played with Hurd in Dallas.
"It's sad for him," said linebacker Brian Urlacher. "I'm not sure what's going on, but you never want to hear about one of your teammates, something like this happening to them. He's a good teammate. That's what I know of him. He comes to work every day and works hard. Outside of here, I don't know him very well."
Hurd, a native of San Antonio who played in college at Northern Illinois, has eight catches for 109 yards this season as a backup receiver.