BBQ owner gets death threats after offering suspended Rangers player free food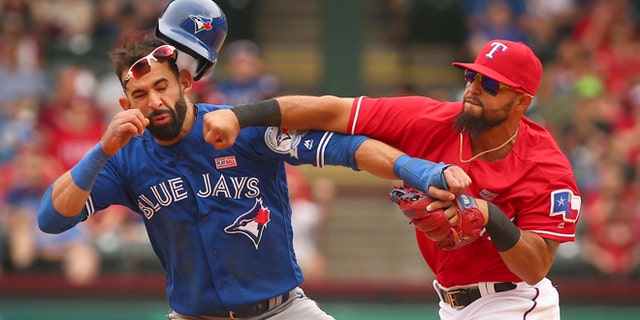 NEWYou can now listen to Fox News articles!
The owner of a Texas barbecue joint who offered free food for life to Texas Rangers' second baseman Rougned Odor after his now infamous punch of Blue Jays star José Bautista has begun to receive death threats from angry Toronto fans.
Soon after Heim BBQ owner Travis Heim made the offer to Odor – who was given an 8-game suspension by Major League Baseball that is on appeal – he began receiving ominous calls on his cell phone.
"It took a weird turn," Heim told KRLD-FM 105.3. "Not like all Blue Jays fans were terrible, but it was probably 99 percent were just saying stuff like 'There's a special place in hell for you.'"
"Somehow some people got my cell phone, and I had probably a dozen voicemails that just ranged the spectrum from 'you suck' to there were a couple of guys that were like, 'We're going to come to Texas and murder you and murder your family,'" he told the radio station.
Despite the threats, Heim said he has no plans to rescind his offer to the Venezuelan-born ballplayer.
"I was talking to somebody yesterday who was saying, 'Aren't you worried?'" Heim quipped. "I was like, 'What do I care what a bunch of Canadians think?"
Whether Odor takes him up on the offer or not is still in question, but the Rangers' player is likely to have some time off pretty soon to get some barbecue. His appeal is expected to be decided on later this week.
"I knew I was going to be suspended," Odor said last week. "I have to follow the rules, and I'm just waiting for the appeal. I want to be with my team all year. I don't want to be out eight games."
The Associated Press contributed to this report.
Like us on Facebook
Follow us on Twitter & Instagram