Baylor runs past North Carolina in Russell Athletic Bowl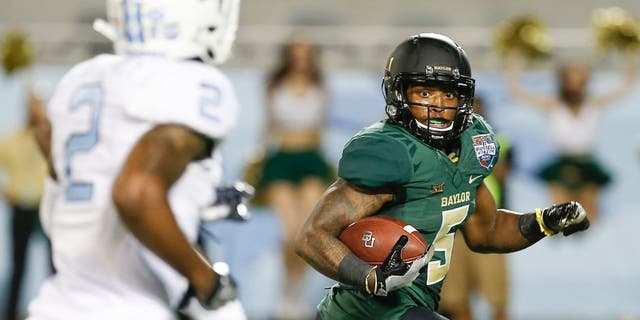 ORLANDO, Fla. (AP) -- Johnny Jefferson rushed for three touchdowns and a bowl-record 299 yards, and No. 18 Baylor ran past No. 10 North Carolina 49-38 in the Russell Athletic Bowl on Tuesday night.
Despite missing two quarterbacks, an award-winning receiver, and a 1,000-yard running back, the Bears' No. 1-ranked scoring offense stayed creative, pounding out 645 yards rushing and 756 total yards -- both records.
Devin Chafin added 161 yards and a touchdown, and Terence Williams rushed for 97 yards and two touchdowns for the Bears (10-3).
North Carolina (11-3) tried to match Baylor's scoring output but had a key fumble in the third quarter that stifled its comeback efforts.
Marquise Williams passed for 243 yards and three scores, and rushed for two more. Elijah Hood added 118 yards rushing.