Baseball Players' Union Looking Into Jay Z's Dazzling Watch Gift To Robinson Cano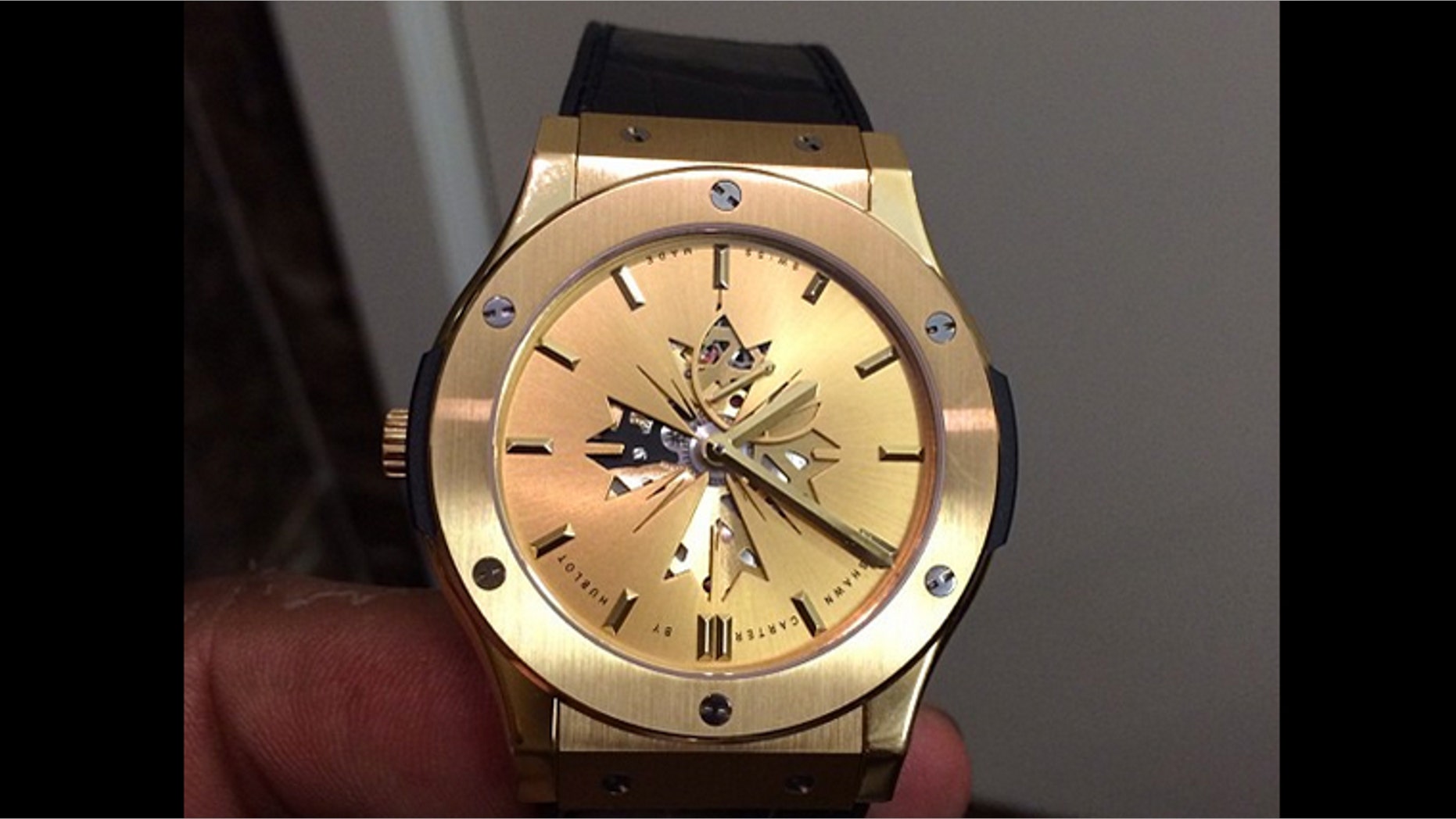 On Oct. 22, rapper Shawn Carter — better known as Jay Z — threw New York Yankee star Robinson Cano a 31st birthday party to end all parties. It took place in Antwerp, Belgium, where the rapper stopped for his Magna Carta tour.
Cano very helpfully sent by Instagram a number of photos — piles of empty Ace of Spades Champagne bottles — and of Jay Z's gift to the second baseman, a Shawn Carter limited edition Hublot wristwatch made of 18K gold and valued at $33,900.
Oops. Cano is represented by both Creative Artists Agency (CAA) and Jay Z's Roc Nation, and Section 5(B)(5)(a) of the Major League Baseball Players Association regulations states that any gift from an agent to a player of more than $500 has to be reported in writing to the union.
The MLBPA is looking into the matter, having spoken to several of the people involved, ESPN reported.
Although it's highly unlikely that Roc Nation or Jay Z will be decertified by the union, they may be reprimanded or disciplined in some other way if the gift is found to have violated MLBPA rules.
Either way, the kerfuffle is unlikely to affect Cano's next contract. The Yankees have made him a qualifying offer of $14.1 million for 1 year; if he turns it down — as he's widely expected to do — he'll become a free agent.
CAA is expected to handle the lion's share of his those negotiations, which promise to produce a whopping payday. In preliminary discussions with the Yankees, Cano is reported to have asked for $300 million over 10 years.
At the time, team president Randy Levine cautioned fans not to expect too much. "Nobody is a re-sign at all costs." According to the New York Daily News, the team has been talking more about the neighborhood of 7 years and $160 million. Which can still buy a lot of bling.
Follow us on twitter.com/foxnewslatino
Like us at facebook.com/foxnewslatino