Barcelona gives 'full support' to Messi over tax fraud case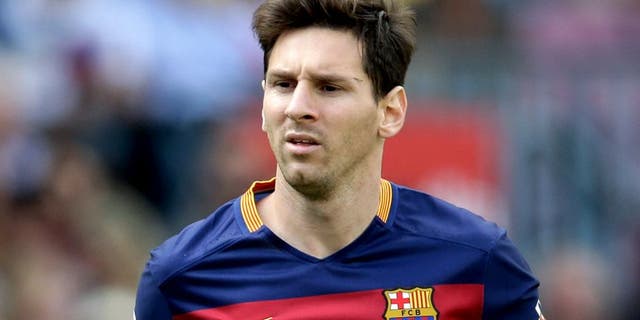 Barcelona have thrown their "full support" behind star striker Lionel Messi as he continues to face allegations of tax fraud.
A Spanish state attorney has announced that he intends to try the player and his father Jorge on three counts of tax fraud, and wants a 22-month prison sentence for each individual.
Messi and his father are accused of defrauding Spain's tax office of 4.1million euros ($4.6m) in unpaid taxes from 2007 until 2009.
A Spanish public prosecutor recommended on September 25 that a judge dismiss tax evasion charges against the Barcelona forward, claiming his father, who is also his agent, was responsible for his finances and not the player.
Both have denied any wrongdoing.
The Catalan club have said in a statement: "Barcelona has expressed its affection and solidarity to Leo Messi and his family in such a peculiar situation.
"The club shall continue to offer him and his family its full support and assistance in the legal, fiscal and administrative aspects of these proceedings."
Barca expressed their astonishment at "the difference in criteria between the public prosecutors and the verdict made by the state attorney".
The latest development has also surprised the company that manages Messi's image rights, Leo Messi Management SLU.
In a statement, it pointed out that the Public Prosecution Office had recommended the player be cleared of any wrongdoing as it "did not accuse the Argentinian of any tax crime" and regarded the action taken by the Spanish state attorney as "contradictory".
Leo Messi Management SLU added: "In the coming weeks, Leo Messi's defence lawyers will have the opportunity ....to submit the evidence that they deem appropriate, corroborating that the Public Prosecution Office's position about not charging Messi (Jr) is correct."
Since the summer of 2013, when the accusations of tax evasion emerged, the Messis have reportedly paid five million euros ($5.68m) to the Spanish tax authorities to cover the money owed from 2007 until 2009, plus interest.
Messi, a four-time World Player of the Year, is currently out of action because of a knee injury that he sustained in last month's Primera Division victory over Las Palmas.