Back in control of destiny, No. 4 Alabama visits streaking LSU Tigers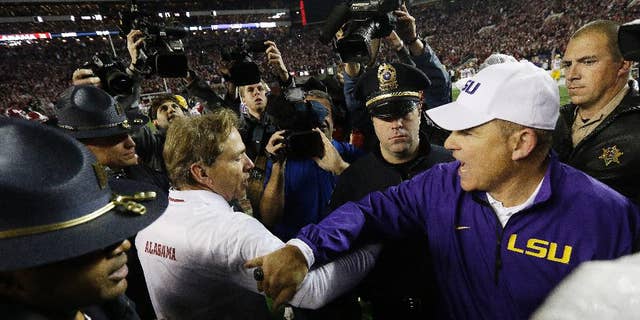 TUSCALOOSA, Ala. – Now, Alabama sees a clearly defined path to all of its big-picture goals, starting with LSU as the first of several big obstacles.
The fourth-ranked Crimson Tide got a boost on its open date when rival Auburn beat Mississippi, the only team to top 'Bama this season. That means Saturday night's always hard-hitting game at No. 14 LSU's Tiger Stadium is the first since that loss where Alabama (7-1, 4-1 Southeastern Conference) is in charge of its own fate.
"It's definitely a will thing," Tide defensive end Jonathan Allen said of games with LSU. "We're so excited. I don't feel like we're going to have any problem with that. We're so excited now, especially since we control our own destiny."
Alabama was sixth in the initial College Football Playoff rankings, but will likely climb one spot closer to the top 4 on Tuesday night.
The Ole Miss loss also cleared the way to an SEC West title if Alabama can win out. That's a big challenge even if the Tide can win Saturday, with home games against No. 1 Mississippi State and No. 3 Auburn remaining.
This rivalry has routinely had huge stakes in recent years. The Tide has won the last three meetings starting with the 2011 season's national championship game rematch, but both teams are riding three-game winning streaks.
LSU cornerback Jalen Collins said the rivalry has only gotten bigger in recent years, creating a different feel around campus on game week.
"Not only the team and around the football facility, but everywhere you go, everybody's got this intensity about them," Collins said. "Alabama's in the back of their minds. They know what's coming at the end of the week. Everybody wants us to win. We hear that all week. Game-time, the intensity is so much more than any other game."
The Tigers (7-2, 3-2) have lost to Mississippi State and Auburn already but they're 46-4 in night games at Tiger Stadium under Les Miles.
LSU linebacker Kwon Alexander needs only a few words to sum it up: "It's 'Bama week, man."
"I see it all over the Internet," Alexander said. "Hate 'Bama week and all that. ... They can't wait for the game and we can't, either."
Like usual, it's likely to feature punishing defenses and powerful running backs like Alabama's T.J. Yeldon and LSU's Leonard Fournette.
"These games are traditionally very tough, physical games between two ranked teams," Alabama coach Nick Saban said. "It's certainly not going to be any different this year."
For Alabama safety Landon Collins, this is the biggest game of the year. The Geismar, Louisiana native school choice came down to the Tide and Tigers with his mom pushing for him to stay in his home state.
"I just want to show them that I picked the right team," Collins said. "Just that we're the best team in the SEC. Just show them basically that I picked the better team."
"I'm constantly hearing about it. Most of it's about my mom, asking, 'Is your mom still an LSU fan?' I'm just like, 'Nah, she just cheers me on.'"
NOTES: Saban said left tackle Cam Robinson could play in the game. He said after the Tennessee game that Robinson was expected to miss two weeks with a high ankle sprain. Robinson has done some work on the treadmill but was to be limited in practice Monday. "If he continues to make progress, he could be a guy that could be available for the game," Saban said. Tailback T.J. Yeldon also sustained a lower leg injury in the game but Saban indicated Robinson was the only starter who wouldn't be full-go starting the week. ... LSU running back Terrence Magee is expected to be ready for the game after an eye injury, Miles said.
___
AP Sports Writer Brett Martel in Baton Rouge, Louisiana, contributed to this report.