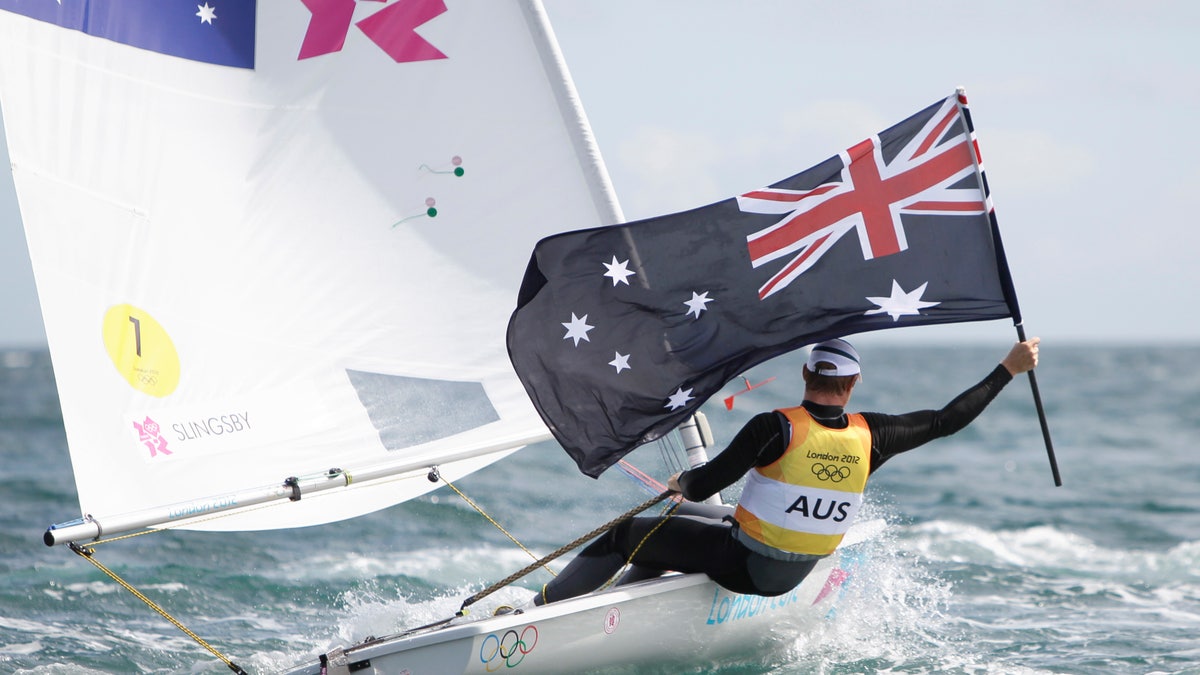 Nathan Outteridge and Iain Jensen of Australia sailed three laps of honor Wednesday to collect their Olympic gold medals in the 49er skiff class.
The boyhood mates from Wangi Wangi in New South Wales had clinched the gold medal on points Monday, the same day countryman Tom Slingsby won gold in the Laser. They still had to make a "genuine effort" to get around the course Wednesday in light conditions.
Their trans-Tasman friends and training partners, Peter Burling and Blair Tuke of New Zealand, clinched the silver medal Monday and also just needed to finish the medals race.
The only battle among the Olympic fleet's adrenaline junkies was for bronze, and it went to Denmark's Allan Norregaard and Peter Lang.
Outteridge, 26, has mastered several classes of high-performance boats, including the Moth hydrofoil, A-Class catamaran, 49er and the AC45, the wing-sailed catamaran he skippers for Team Korea in the America's Cup World Series.
After crossing the line, Outteridge jumped into Weymouth Bay, leaving the tiller in the hands of Jensen, 24.
Later, the victorious duo capsized the boat and celebrated in front of a large contingent of Aussie fans watching from the Nothe Fort, waving flags and inflatable Boxing Kangaroos.
Four years ago, Outteridge and then-crew Ben Austin were in the lead in the medals race when they capsized not far from the finish, dropping them to fifth.
It's Australia's second sailing gold medal of the games, putting them one ahead of the strong, well-funded British team. Tom Slingsby, a tactician with America's Cup champion Oracle Racing, won the Laser gold on Monday.
The 49ers are normally the fastest boats in the Olympic regatta, but Wednesday's light, unstable wind kept them from dashing across the waves like they usually do.
The class is distinctive for its national flag gennakers which are hoisted for downwind legs.
The gold is the first medal for Australia in the 49er class, which made its Olympic debut in Sydney in 2000. The 4.9-meter boat -- or about 17 feet -- is based on the Aussie 18s -- or "eyedeens" as they're called on Sydney Harbor.