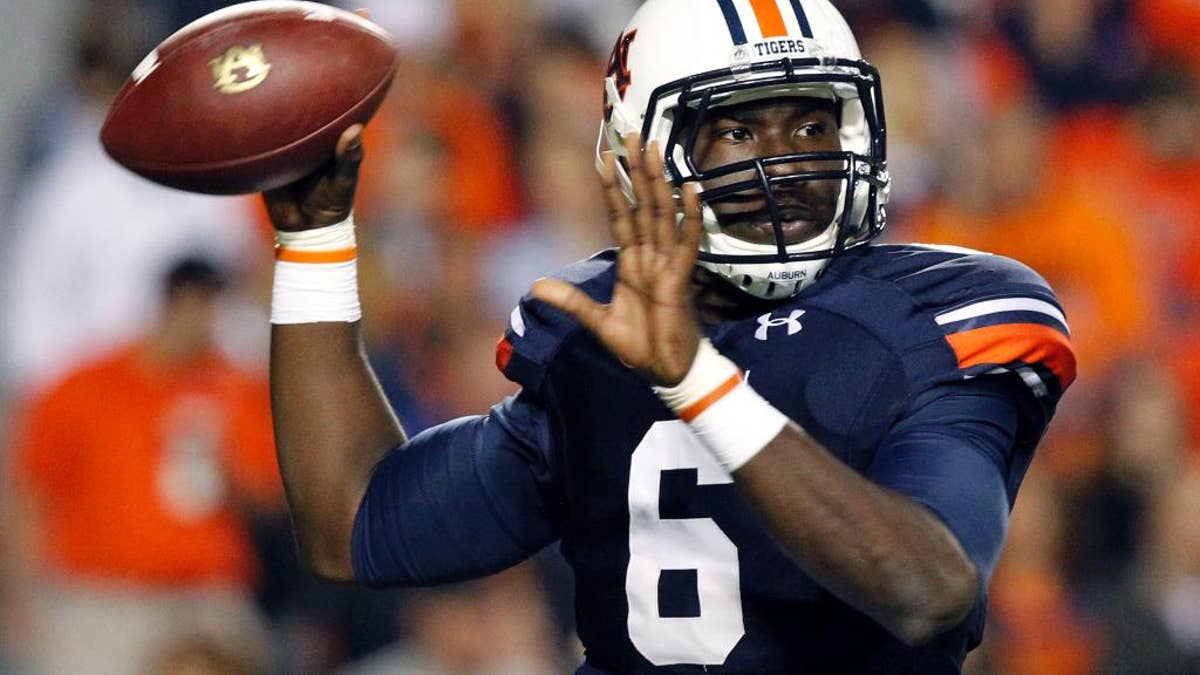 AUBURN, Ala. – Auburn's backup quarterback predicts Nick Marshall will win the Heisman Trophy this season.
Jeremy Johnson expresses much less certainty over who will start the opening game since Marshall is expected to begin the season on the bench as punishment.
"He led us to the national championship (game), and we were 13 seconds away," Johnson said. "And this year he got better at passing, better at running, better at making reads. He's become a leader on this team and I've never seen him so amped at practice every day the way he is, the way he comes out. So I know for a fact he'll win the Heisman."
The common presumption is that Johnson will be the starter against Arkansas on Aug. 30. Auburn coach Gus Malzahn has said only that Marshall won't start the game after the quarterback was cited for possession of a small amount of marijuana in July.
If the coaches have decided how long to hold Marshall out, or even whether Johnson will start in his place, the sophomore said over the weekend that they haven't told him.
Third-teamer Sean White is a freshman.
Johnson said he's not stressing over the uncertainty, and he's not about to wander into Malzahn's office and asks if he's starting.
"I'm very confident and I know the team's confidence in me and I know they have my back, so if I'm called upon I'll be ready," Johnson said.
Malzahn has said he and offensive coordinator Rhett Lashlee had already decided Johnson will play more this season. The 6-foot-5, 230-pounder offers a change-up to the smaller, quicker Marshall.
The former Alabama Mr. Football played in six games last season, starting for an injured Marshall against Western Carolina and playing most of the way against Florida Atlantic. He passed for 393 yards and six touchdowns with a pair of interceptions in those two games and appears to have earned the confidence of his coaches and teammates.
Tight end C.J. Uzomah said Johnson emerged as a team leader even before preseason camp began.
"Jeremy could start probably anywhere else in the SEC," Uzomah said. "We have all the confidence in the world in him."
Johnson showed his support for Marshall, who he calls a good friend, well before the Heisman prediction. He said he called the preseason All-Southeastern Conference pick as soon as he heard about Marshall's legal run-in.
The quarterback's mother has paid the $1,100 in fines, meaning Marshall won't have to appear in court.
"If you're the quarterback at Auburn, you're the face of the program regardless of what you've done in the past," Johnson said. "Whatever happens you're still the face. He knows that and he's learned from his mistake and it won't ever happen again."
Johnson said he's perfectly comfortable running zone read plays like Marshall. He said a primary offseason focus has been working on his timing with quick throws from a three-step drop.
If Johnson indeed does start against the Razorbacks, he insists jitters won't be a problem.
"I'm really not going to be nervous," he said. "It's just football is football. I'm a football player. That's why I'm here. I'm really not going to be nervous."