Atlanta Braves Drubbed By Dodgers As Kershaw Fans 12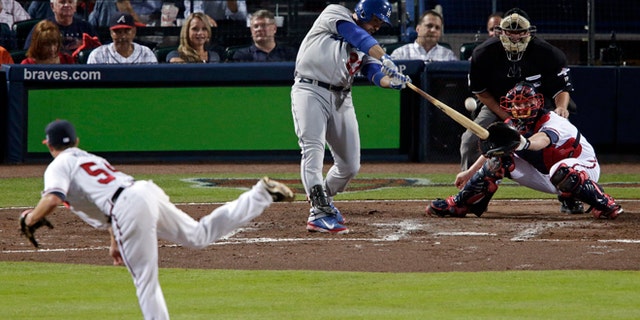 Atlanta – Clayton Kershaw finally has his first postseason win.
He made sure it was one to remember.
Kershaw struck out 12 while allowing only three hits, Adrian Gonzalez hit a two-run homer and the Los Angeles Dodgers beat the Atlanta Braves 6-1 in Game 1 of the NL division series Thursday night.
The win soared to the top of Kershaw's list of favorites — no small statement for the right-hander favored to win his second Cy Young Award.
"It's up there," Kershaw said. "It might be the best just because it's my first postseason win. ... This one definitely has special meaning to me for sure."
Kershaw walked three batters but gained confidence as the game progressed. Nine of his last 11 outs came on strikeouts.
Kershaw struck out the side in the seventh to cap his dominant performance.
Atlanta struck out 15 times in all, including three in the ninth against closer Kenley Jansen.
Game 2 in the best-of-five series is Friday night in Atlanta, with Zack Greinke (15-4) starting for the Dodgers against Mike Minor (13-9).
The Braves needed a strong performance to beat Kershaw and were far from perfect. Left fielder Evan Gattis was doubled off first base in the second inning on a fly ball to right field, and second baseman Elliot Johnson missed a sinking liner by Carl Crawford that was ruled a single in the third.
Manager Fredi Gonzalez said the Braves were "a little bit overamped."
Asked to elaborate, Gonzalez said, "Excited. That's what I mean.
"It was a big game. I had to check myself a little bit in the dugout. ... Hopefully, they come out tomorrow and play a little better baseball, a little calmed down, and it might give us a good opportunity to win the game."
Gattis said he was "excited, nervous, everything else. It's good for me."
The Dodgers gave Kershaw a 4-0 lead in the third. That's usually enough to practically guarantee a win for the Los Angeles ace.
"That was huge," said Dodgers catcher A.J. Ellis, who drove in a run with two doubles. "When you get Clayton the lead, usually he's going to take care of business the rest of the way.
"The way he was going with the swings and misses, you knew it was going to be a special night. He was outstanding."
Braves right-hander Kris Medlen struck out the side in the first, but that would be his highlight of the night.
Medlen couldn't keep pace with Kershaw. He allowed two runs in the second and two more in the third on the homer by Gonzalez over the 400-foot sign on the center-field wall for a 4-0 lead.
Medlen said he threw a first-pitch changeup for a strike in the second inning and tried the same strategy against Gonzalez in the third. He said he sensed danger as soon as he threw the pitch.
"I almost let it go knowing he was sitting on it," Medlen said. "It's been a successful pitch for me and something I've been relying on the entire year. But he's one of the best hitters in the game. It was a changeup, but it was a very bad changeup and he put a really good swing on it. For someone to take it dead center like that, he's got a good swing."
Yasiel Puig hit a one-out single in the second, hustled to third on Juan Uribe's single up the middle and scored on Skip Schumaker's fly ball to center field. Uribe scored on a double by A.J. Ellis past a diving Gattis in left field.
A.J. Ellis doubled in the fourth and scored on a single by Mark Ellis.
Medlen gave up five runs on nine hits and one walk in four-plus innings. Gonzalez led off the fifth with a single and Medlen then hit Puig with his final pitch of the game.
The Dodgers added a run in the sixth when Mark Ellis, who singled, scored on Hanley Ramirez's double off Jordan Walden.
The Braves' only run came in the fourth when Freddie Freeman, who hit a one-out single, scored on Chris Johnson's single. Johnson's hit came after Brian McCann's long fly ball was caught at the left-field wall by Crawford.
"I thought I got enough to get it out," McCann said. "But I didn't."
Follow us on twitter.com/foxnewslatino
Like us at facebook.com/foxnewslatino