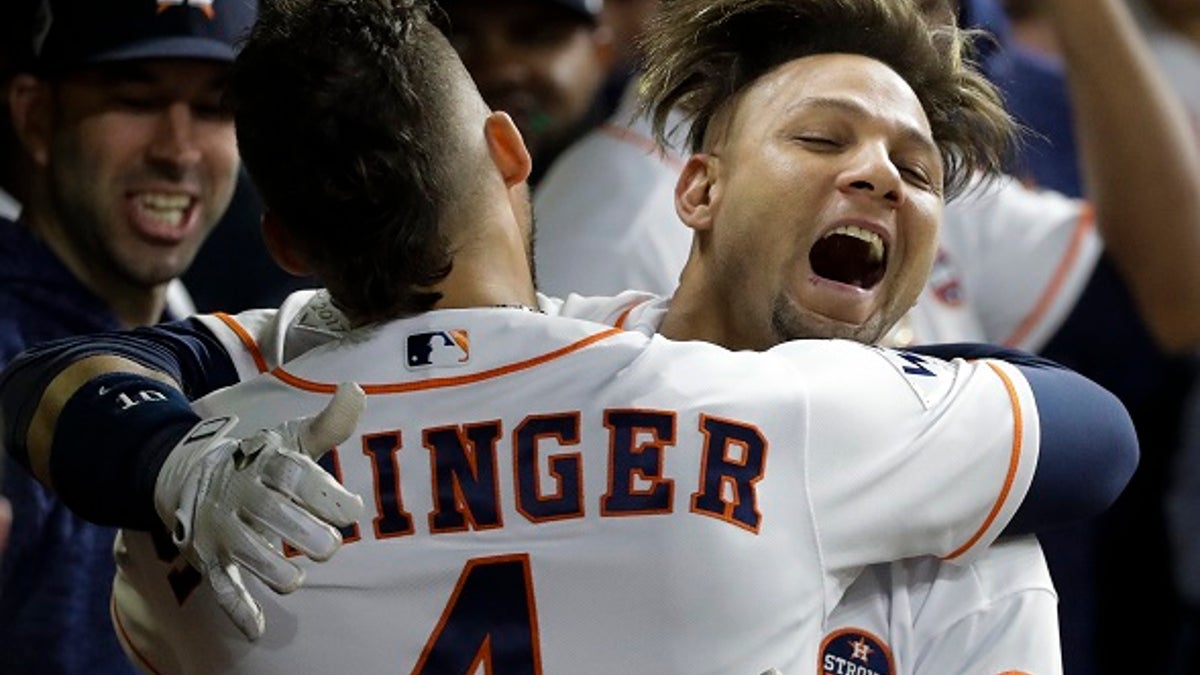 Houston Astros first baseman Yuli Gurriel apologized for making a racially insensitive gesture Friday night during Game 3 of the World Series and could face punishment from the MLB.
Gurriiel said he did not intend to offend Japanese Los Angeles Dodgers pitcher Yu Darvish when he pulled on the corners of his eyes after homering against him during Houston's 5-3 win Friday night.
"I didn't try to offend nobody," Gurriel said in Spanish through a translator. "I was commenting to my family that I didn't have any luck against Japanese pitchers here in the United States."
ASTROS PLAYER YULI GURRIEL APPEARS TO MAKE RACIST GESTURE MOCKING JAPANESE OPPONENT
Gurriel, 33, a native of Cuba, made the gesture after homering off Darvish in the second inning. While sitting in the dugout, Gurriel put his fingers to the side of his eyes and said "chinito" — a derogatory Spanish term that translates literally to "little Chinese."
Darvish was born in Japan to a Japanese mother and Iranian father.
An MLB spokesperson told ESPN in a statement: "We are aware of the situation and the Commissioner (Rob Manfred) intends to speak with the player tomorrow."
Darvish, who has played in the MLB since joining the Texas Rangers in 2012, was angry about what happened.
"Acting like that, you just disrespect all the people around the world," Darvish said through a translator.
Gurriel said he hopes to speak with Darvish about the incident.
WORLD SERIES: ASTROS EDGE OUT DODGERS IN GAME 3
"Yes, of course. I want to talk to him because I have nothing against him," he said. "I think he's one of the best pitchers in Japan, and I never had success against him. ... If he felt offended, I want to apologize to him."
A.J. Hinch, the Astros' manager, said Gurriel was remorseful.
The backlash from other MLB players was swift. Texas Rangers pitcher Jake Diekman used an emoji to call the gesture trash, and outfielder Ryan Rua said "really hope that gesture from Gurriel wasn't directed towards Yu...no place for that."
Darvish hopes the incident can be a learning experience.
"Nobody's perfect and everybody is different and then ... we just ... have to learn from it," he tweeted. "And then he made a mistake and then we're just going to learn from it. We are all human beings. That's what I'm saying, so just learn from it and we've got to go forward, move forward."
The Associated Press contributed to this report.