Arsenal secure second in the Premier League after beating Manchester City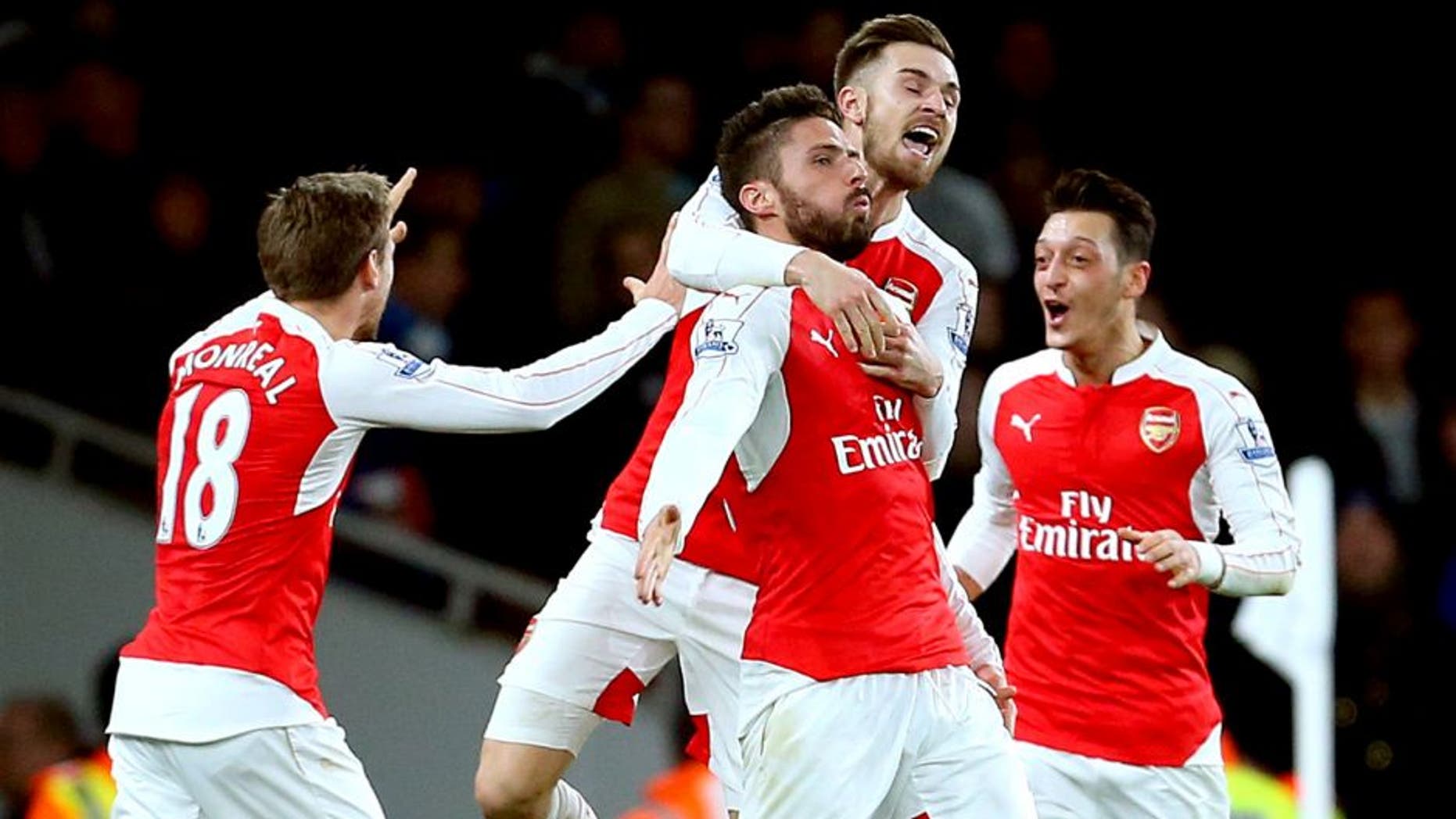 Was that the decisive move in the title race? All season, the contenders have danced around each other, failing to put together the sort of consistent run that might allow them to take charge of a division in which all the major players have been dropping points, but Arsenal, with a performance of opportunism and then efficiency, moved to within two points of the leaders Leicester City and four clear of the pack with a 2-1 win over Manchester City.
It wasn't just the result or what it meant for the table that should inspire optimism among Arsenal fans. It was the manner of the performance and it's very un-Arsenal like nature. It was against City at the Etihad earlier in the year that Arsenal seemed, at least, to discover a new way of approaching big games. Rather than simply trying to outplay the opposition, it sat back, absorbed pressure and struck on the break.
Here, it allowed City to dominate possession, got away with one bad miss from Kevin De Bruyne, and then struck to go in 2-0 up at half-time, thanks to clinical finishes from Theo Walcott and Olivier Giroud, both goals set up by – who else? – Mesut Ozil, who took his tally of assists for the season to 15.
There had been a thought that Arsenal might rip into City as it had Manchester United, when it raced into a 3-0 lead within 20 minutes. Not only was there no repeat of that, but there was no real sense of Arsenal attempting a similar surge. Rather it sat off and looked a little tentative, the first two real chances of the game falling to De Bruyne. First he cut in from the left, sashayed by Nacho Monreal and saw his low shot saved by Petr Cech. Then, set clean through by a flick from Sergio Aguero, he could have squared for David Silva but instead shot, dragging his shot across the face of goal. Manuel Pellegrini's reaction showed just how good a chance it had been.
Within a minute Arsenal was ahead with its first shot of the game. Ozil's ball to Walcott was one of his less memorable of the season, slipping a simple pass to Walcott, who checked back and, from the corner of the box, whipped his shot across Joe Hart and into the corner – a stunning goal made all the more so by the fact nothing in the game until then had threatened anything approaching that quality.
Ozil's assist for the second was rather more striker as he turned neatly and, with Eliquim Mangala caught out of position, played in Giroud. The striker is playing with greater confidence now that an any time in his Arsenal career, having the presence of mind to look up and drill his shot between the legs of Hart.
City had begun with a central midfield three of Fabian Delph, Fernandinho and Yaya Toure, presumably with a view to flooding the space in which Ozil likes to operate. It didn't work. The Germany international, thriving in the absence of Alexis Sanchez, is too elusive for that. Pellegrini abandoned the plan at half-time, sacrificing Delph for Raheem Sterling and switching to 4-2-3-1.
All that did, though, was to give Arsenal even more space on the break. Joel Campbell, who can look a little heavy of touch, relished the chance to rampage across untenanted grass. He went close twice and was at the heart of a flowing counter that ended with Hart saving from Aaron Ramsey before being withdrawn for Kieran Gibbs with 20 minutes remaining.
That hinted at Wenger's new-found pragmatism, an attempt to close the game down, but really there seemed no need. Yet just as the game seemed to be petering out, Yaya Toure exchanged passed with Wilfried Bony and then caressed a first-time left-foot shot into the top corner. Suddenly, unexpectedly, there was an eight-minute test of character for both sides. City had chances but, in an atmosphere of mounting anxiety, Arsenal held out. The question then was why it had taken City so long to get going.
Perhaps Leicester can keep its remarkable run going, although that will be clearer after games away at Liverpool and at home to City in the four days after Christmas. Otherwise, though, Arsenal will never have a better chance to win a first league title since 2004. The rest of the league is in disarray, while Arsenal, finally, has built the sort of momentum that could establish a decisive lead.