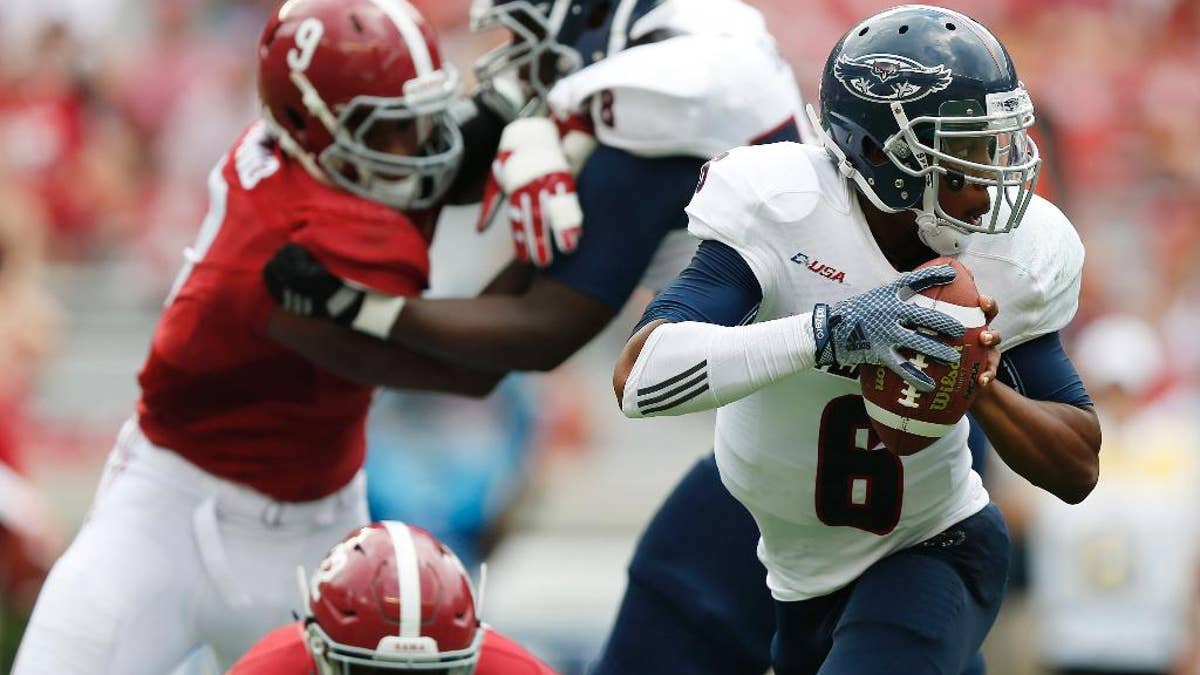 TUSCALOOSA, Ala. – Alabama offensive tackle Austin Shepherd would rather not try to single out the toughest guy on his own defense to block so he starts rattling off their attributes instead.
"They all have different moves," Shepherd said. "A'Shawn Robinson's a huge dude who can bull rush. Jonathan Allen, quick hands. D.J. Pettway, fast off the edge. I could go on forever. They have something different that you have to be aware of."
The third-ranked Crimson Tide's efforts to be more effective at harassing opposing quarterbacks have paid off going into Saturday's game against Southern Miss, with six sacks by five players through two games.
Alabama is more known for stout run-stoppers and NFL-bound linebackers and defensive backs than fleet-footed big men chasing down quarterbacks. It has routinely paid off with a string of highly rated defenses, but this group seems to have a notable abundance of athletic pass rushers among the front seven to send in pursuit.
The 6-foot-4, 320-pound Robinson led the Tide with 5.5 sacks as a freshman last season but has moved from defensive end to nose guard, meaning all three line spots have new starters. Linebacker Xzavier Dickson had two sacks against West Virginia and three other linebackers have one apiece as does sophomore defensive end Jonathan Allen, who starts opposite the junior college transfer Pettway.
Alabama ranked ninth in the Southeastern Conference with 22 sacks last season and currently stands tied for third with Missouri and Texas A&M. The Tide has three sacks in each of its first two games, a number the defense reached just three times in 13 games a year ago.
"They are big and physical up front," Southern Miss coach Todd Monken said. "They may not be as experienced as they have been in the past, but they are physical up front. Their linebackers are physical. They do a great job on third downs. They do a great job of staying in front of the chains. You don't want to get into extreme third down and long with their nickel and dime packages. They blitz you and give you different looks."
The style of opposing offenses hasn't lent itself to racking up sacks in bunches. Alabama coach Nick Saban has often emphasized affecting the passer more than getting sacks, and rated the pass rush to this point as "OK."
"I think some of that is how many true drop back, throw the ball down the field passes have we really seen so far?" Saban said. "We've probably seen more screens and more balls thrown behind the line of scrimmage than we have seen balls going down the field. It's hard to affect the quarterback when the ball comes out that fast."
The Tide has loaded up with five-star pass rushers like defensive ends Allen and freshman Da'Shawn Hand, who had 53 sacks his final three years of high school, and linebacker Rashaan Evans in recent recruiting classes. Inside linebacker Reggie Ragland raved about the freshman Evans and sophomore linebacker Tim Williams for their athleticism and explosiveness off the line.
"Those guys, the first step they have it's unbelievable," Ragland said. "And as the season goes on you are all going to see it.
Evans got his first career sack with a quick burst from the edge against Florida Atlantic — and drew the ire of coaches by promptly doing a celebratory pose.
His teammates were impressed, by the play if not the pose by a player Alabama lured away from his hometown rival Auburn.
"Imagine having to block that off the edge," Shepherd said.
"Rashaan is a freak," added Ragland. "And when you're a freak, you deserve to be on the field."
There's plenty of candidates for the role, though.