Arizona tumbles to No. 9 after loss to Oregon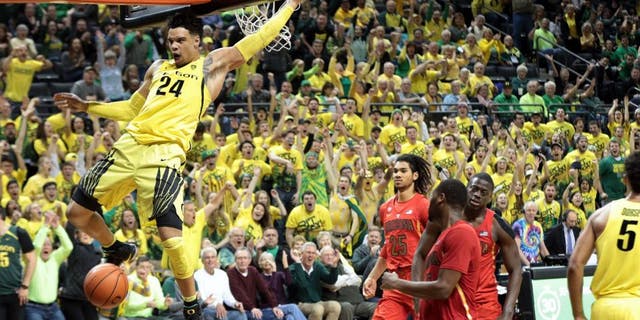 Arizona tumbled from fifth to ninth in this week's Associated Press college basketball poll following its blowout loss at Oregon.
The Wildcats were one of three top-five teams to lose but suffered the biggest drop. Kansas, which opened the week with a win over second-ranked Baylor, remained at No. 3 despite the end of its 51-game home-court winning streak in a Saturday loss to Iowa State. Baylor, which lost to Kansas and Kansas State, fell from second to sixth.
Oregon took Arizona's place at No. 5, making the week's biggest jump from No. 13.
Unbeaten Gonzaga (24-0) held the No. 1 spot for the second week in a row, getting 59 of 65 first-place votes. Villanova (22-2) got the other six first-place votes and moved up from fourth to second.
Kansas, Louisville and Oregon round out the top five -- with Baylor, Wisconsin, North Carolina, Arizona and UCLA filling the next five slots.
Xavier and SMU are the week's newcomers at Nos. 24 and 25, replacing Notre Dame and Northwestern.
There are six games this week featuring a pair of ranked teams: No. 4 Louisville at No. 12 Virginia on Monday; No. 5 Oregon at No. 10 UCLA and No. 8 North Carolina at No. 18 Duke on Thursday; No. 1 Gonzaga at No. 20 Saint Mary's and No. 2 Villanova at No. 24 Xavier on Saturday; and No. 11 Cincinnati at No. 25 SMU on Sunday.
1. Gonzaga ­ 24-0 1619
2. Villanova ­ 22-2 1565
3. Kansas ­ 20-3 1446
4. Louisville ­ 19-4 1411
5. Oregon ­ 21-3 1263
6. Baylor ­ 20-3 1255
7. Wisconsin ­ 20-3 1232
8. North Carolina ­ 21-4 1145
9. Arizona 21-3 1136
10. UCLA ­ 21-3 1115
11. Cincinnati ­ 21-2 876
12. Virginia ­ 17-5 875
13. West Virginia ­ 18-5 861
14. Florida State ­ 20-4 839
15. Kentucky ­ 18-5 741
16. Purdue ­ 19-5 537
17. Florida ­ 18-5 530
18. Duke ­ 18-5 514
19. South Carolina­ 19-4 493
20. Saint Mary's ­ 21-2 468
21. Maryland ­ 20-3 326
22. Butler ­ 18-5 285
23. Creighton ­ 20-4 207
24. Xavier ­ 17-6 144
25. SMU ­ 20-4 107
Others receiving votes: Wichita State 38, Southern Cal 35, Notre Dame 33, Northwestern 11, California 3, Iowa State 3, Monmouth (N.J.) 3, New Mexico State 3, VCU 3, Kansas State 1, Oklahoma State 1, Vermont 1