Aric Almirola takes XFINITY win at Talladega after mishap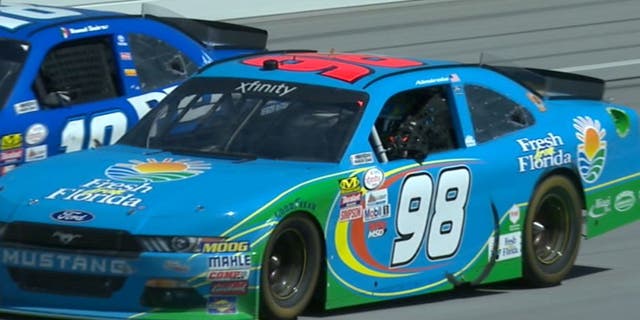 Aric Almirola won Saturdays Sparks Energy 300 XFINITY Series race at Talladega Superspeedway, surviving a pair of multi-car wrecks that took out several possible contenders.
The first of the accidents Almirola survived was one that he caused himself in his No. 98 Ford.
On the final lap of Stage 2, Almirola tried to give Ryan Reed a push from behind and instead ended up sending Reed's No. 16 Ford into the outside wall, collecting the No. 62 Chevrolet of Brendan Gaughan in the process.
That sent several cars behind the lead pack scattering every which way, with the cars of pole-sitter Blake Koch, Cole Custer Chris Cockrum and Scott Lagasse Jr. all suffering major damage. Seven cars were involved in all.
Reed's car was destroyed, while Almirola, who won Stage 1 of the Sparks Energy 300, escaped relatively unscathed and took the blame for causing the incident.
"Ah, I'm sorry. I was trying to give him a push," Almirola said over his team radio.
Reed accepted the apology, but obviously remained frustrated by what transpired.
I actually think a lot of Aric, Reed said. I have a lot of respect for him as a driver and as a person, but that just wasnt cool.
All he had to do was back off a little bit. He just got so aggressive with that push and then didnt hit us square. He hit us off to the right side and when that happened the car was out from underneath me before I knew it."
Gaughan told FOX Sports it was merely a byproduct of restictor-plate racing.
"We were in the front. I didn't like what I saw, so we bailed out just in time to miss the (earlier) wreck with the people who were driving just over their head," Gaughan said. "And then in the end here, we were running for the stage win with our (Richard Childress Racing) teammate Ty Dillon. We were in the right spot and had gotten ourselves back up there.
"But that's restrictor-plate racing. Great race. Great racetrack, a fun place to be. I love being here -- but that's just the ills of restrictor plates. Sometimes it's out of your control."
Gaughan was referring to the first Big One of the day, which came with five laps left in Stage 1 when Brennan Poole got loose as he was to side-draft Daniel Surez -- setting off a chain reaction that led to him and Suarez making contact. Poole then got as Daniel Hemric and others tried to check up but couldnt.
I just wish people would be a little smarter driving that early in the race, Hemric told FOX Sports.
Almirola made the one mistake, obviously, but otherwise drove a very smart race in securing his third win in his 99th career start in the series.