Aric Almirola crash highlights danger, progress in NASCAR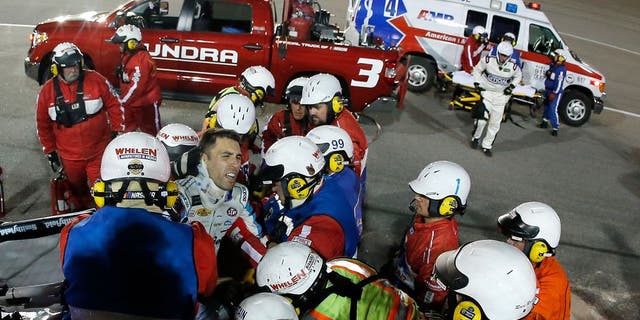 At its core, auto racing always was and always will be dangerous. Thats a fact.
Saturday nights scary crash at Kansas Speedway, where Aric Almirola plowed into Danica Patrick and Joey Logano was a sobering reminder of the laws of physics: Momentum equals mass times velocity.
In the case of Almirola, it was an object that weighed 3,450 pounds hitting another object of the same weight at a speed of around 200 miles per hour. That, by its very definition, is a violent impact.
Logano and Patrick were fortunate to be able to walk away.
Almirola was in stable condition after being airlifted from the track to a local hospital. We expect an update on the nature of injuries and his condition sometime later today.
Still, it could have been much worse.
SAFER barriers, HANS devices, and better car construction have all made the sport a lot safer in recent years. But its never going to be completely safe and no one knows that better than the drivers.
Well, I mean, it's a dangerous sport, said Brad Keselowski, who finished second to race winner Martin Truex Jr. Always has been, always will be. Sometimes we forget that and maybe take for granted that you see real hard hits and people walk away, and then you see one where someone doesn't, and it puts things back into perspective just how dangerous it can be.
But when an accident happens, the remaining drivers need to refocus and concentrate on what they are doing, which cant be easy.
During the red flag for Almirolas crash, Truex got updates from crew chief Cole Pearn and watched on the tracks big screen as safety workers extricated Almirola from his car.
When I saw him they were getting him out and he was on a stretcher, said Truex of Almirola. I just kind of put my head down and closed my eyes and gave him a few prayers to hope that he was doing good.
The bad news was the fact that Almirola was injured.
The good news is the progress that has been made in safety in recent years.
Back in the days when I worked at National Speed Sport News, Chris Economaki told me that in the 1940s and 50s, it was a given that there would be at least one fatality every week at a racetrack somewhere in America.
Its mind-boggling to think that drivers regularly getting killed was the norm, but it was. Fortunately, that isnt the case these days.
There has not been a fatality in a Monster Energy NASCAR Cup Series race since Dale Earnhardt was killed in a last-lap crash in the 2001 Daytona 500. And NASCAR will evaluate what happened with Almirola and work on making the cars safer still.
As a driver watching that, this sport, like Brad (Keselowski) said, is dangerous, said Ryan Blaney. NASCAR has made really good safety improvements over the past 10, 15 years, and they're always improving, so they'll look at that incident and see what they can do better to prevent that from happening ever again.
And in the meantime, best of luck for a full and speedy recovery for Almirola.