Argentina's other 'Maradona' chasing field hockey gold medal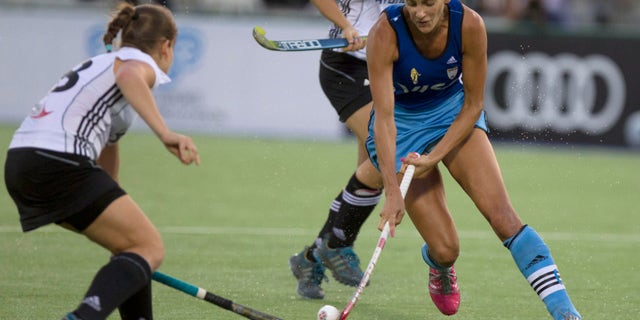 BUENOS AIRES, Argentina – Luciana Aymar, otherwise known as "The Maradona of hockey," turns 35 on the day of the women's field hockey final at the London Olympics.
So guess what she'd like for a birthday present on Aug. 10?
"I picture winning the gold medal," said Aymar, who earned her Diego Maradona-inspired nickname at home in Argentina because of her dribbling skill and status as the top player in the game.
She's also called "La Maga," or "The Magician," and she's the only woman who has been named as the game's best player seven times.
In London, Aymar will feel the pressure. She has won two bronze medals and a silver in three Olympics, and this year will be her last chance for gold.
Argentina won only two gold medals in the 2008 Olympics, and one went to a men's football team led by Lionel Messi. The football team failed to qualify this time.
"London will present a series of different emotions," Aymar said. "There is the sadness of knowing this is my last tournament. But right now I am thinking only of the gold medal I am missing. I think of it when I wake up at 7 and go to train, and when I'm resting and eating."
The team, known as "Las Leonas," or "The Lionesses," will be among the favorites and play in a group with South Africa, New Zealand, Australia, Germany and the United States. This presents an opportunity to avenge a 4-2 loss to the Americans in the final of last year's Pan American Games in Guadalajara, Mexico. It was probably the Americans' most important victory, and a major shock for Argentina.
The loss was Argentina's first in the Pan American Games since the sport was included in 1987, and it forced the South Americans to struggle to reach the Olympics. On the other hand, the victory automatically qualified the United States for London.
"The teams in our group are not as well known, but they are strong," Aymar said.
The other group looks more powerful and includes defending Olympic champion the Netherlands, Belgium, Japan, China, South Korea and Britain.
Aymar has led Argentina to two World Cup titles, and five Champions Trophies. She will also be Argentina's flagbearer in the opening ceremony, testament to her status in the South American country.
She has talked about a career in TV or acting after she retires, perhaps inspired by her partner actor Michel Gurfi, a star of Spanish-language soap operas.
"I feel like a female athlete should be able to be seen differently," Aymar said. "I began to open doors and break stereotypes. I can be an athlete, but one also can be allowed to be pretty, charismatic and attractive."
Aymar will be the sixth Argentine woman to carry her country's flag. She was picked in a vote by the Argentine Olympic Committee, topping 2009 U.S. Open champion Juan Martin del Potro and Houston Rockets forward Luis Scola.
She has spoken repeatedly about hiring a psychologist to help with the pressure and her pending retirement. And it was Aymar who stood alongside President Cristina Fernandez last month at a send-off ceremony for Argentine athletes. Holding the flag, Aymar applauded as Fernandez cautioned athletes against doing anything provocative in Britain, which is engaged in a renewed dispute with Argentina over the Falkland Islands.
"I know it's difficult to win gold because there are many good teams, and there is more and more parity," Aymar said. "But I'm convinced Argentina has a chance to fight for gold."