Aqib Talib is already whining about people disrespecting the Broncos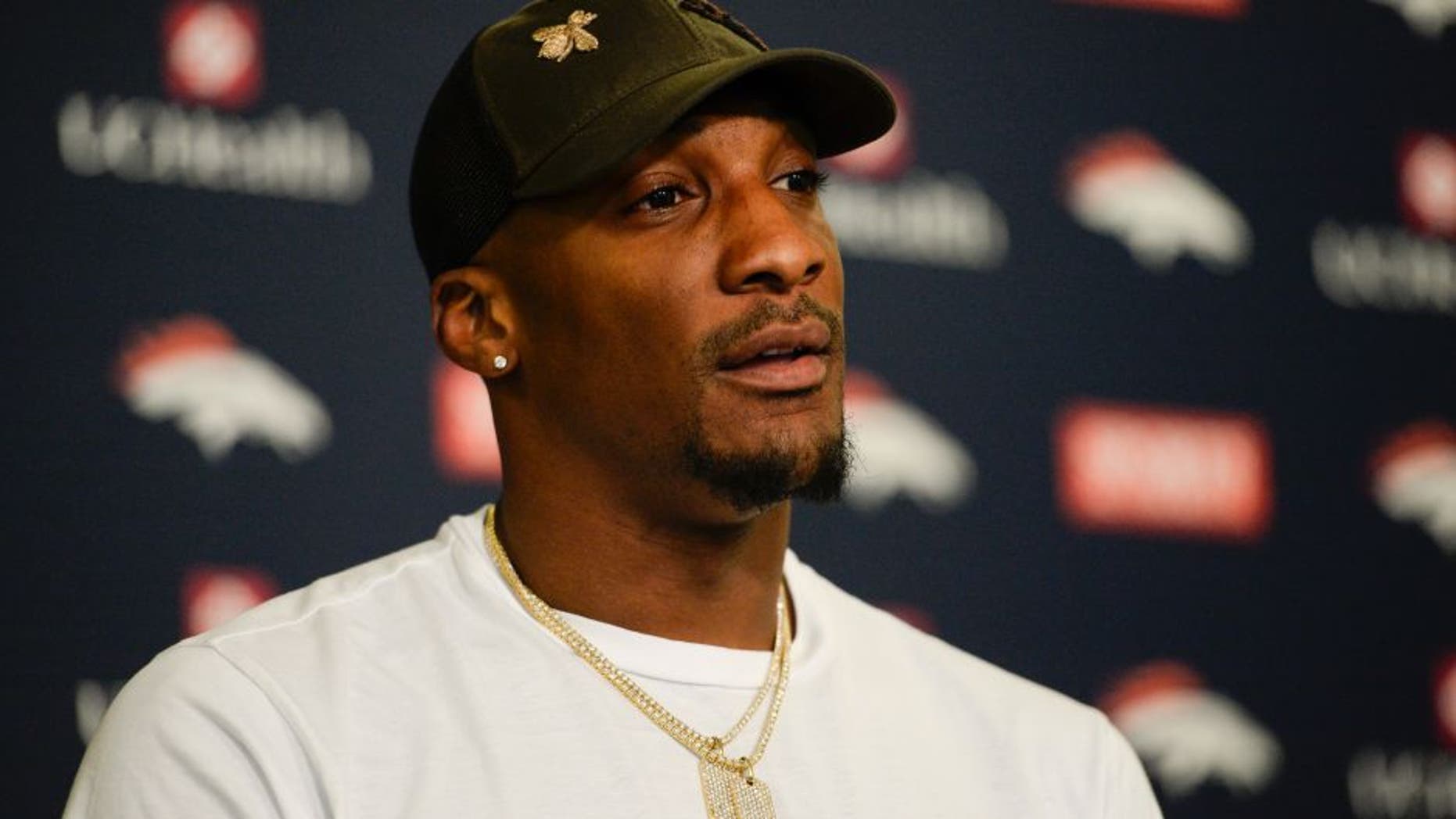 Even though there are still probably pieces of confetti stuck on sidewalks and heating grates in downtown Denver and even though the Broncos have probably yet to expand their trophy case to fit the team's third Lombardi trophy and even though we're still about five months from the start of the 2016 season, Pro Bowl cornerback and All-Pro yapper Aqib Talib has already decided the Broncos are being disrespected despite the fact that, you know, it's April.
He told The Denver Post:
"We still have conversations about our respect level. We still don't feel like it's there. I don't know why. You all do all the writing and all the talking, and there a lot of questions, stuff about our performance. We still have a chip. We are going to make it a period instead of a question mark."
When? Who? How? Wait, what? Who are these doubters Talib speaks of? Who is he having conversations with about respect levels? Where besides Boston-area sports call-in shows are people even discussing whether the Broncos should or shouldn't be respected? Is he confusing the doubters with those saying Von Miller won't be able to beat Antonio Brown, Paige VanZant and Stephanie Tanner at Dancing with the Stars? It's just hard to fathom.
The Broncos won the Super Bowl on the strength of its defense. The unit was favorably compared to some of the most historic defenses of the past 35 years, such as the '85 Bears and '00 Ravens. Yes, people gave Cam Newton and the Panthers way too much credit entering Super Bowl 50 even though it seemed more likely than not that Talib, Von Miller, DeMarcus Ware and company would win that battle, but even then nobody was doubting that the Broncos defense was great. They just thought the Panthers offense might be better. But after the game, I don't know of one person, outside maybe Cam himself, who couldn't identify the superior unit in the game and in the whole of the league.
That's irrelevant though. We'll have plenty of time to discuss favorites for 2016 once the season is, say, 40 days away from starting, not 141. Then, if you still want to play the "no one believes in us" card and place chips on your shoulder, real or perceived, fine. Frankly, I can't imagine why anyone would need extra motivation for defending a title but, hey, whatever works for you.
(Also, I don't think Talib has thought through this "make it a period instead of a question mark" thing. Depending on the sentence it'd probably be the other way around.)
"It does feel different. We have a target on our back. If they didn't bring their best last year, they are going to now."
Dude, you had Peyton Manning for the last four years. You won the AFC in 2013 and again in 2015 and cruised to an easy Super Bowl win over a team with one of the best regular-season records in NFL history. Your defense was unstoppable last year. Also, you used to play for the Patriots, a team that's had this alleged target painted on the backs of their jerseys for 15 years. I'm pretty sure people have been "bringing it" against you for a while now.
But even though we're doubting the Denver doubt and think Talib is just mouthing off in the middle of the offseason to keep himself in shape for the actual season, would it really be that ridiculous for people to doubt the Broncos are going to repeat? No one has done it since the Patriots in 2004 and 2005. And, most importantly, no one has had to do it with this guy under center.
Okay, maybe Talib has a point after all.