Anonymous Jets players talk about differences between Bowles, Ryan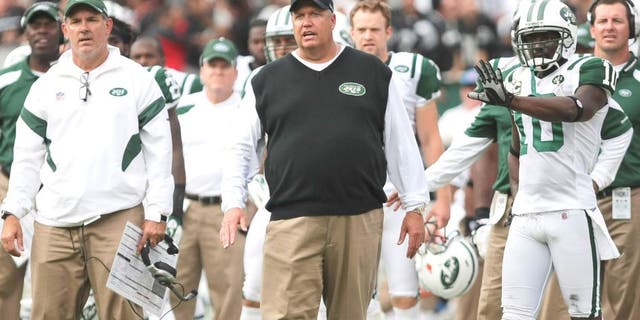 The New York Jets are in the midst of a makeover in the front office and on the field. Todd Bowles is taking over for Rex Ryan as the head coach, while Mike Maccagnan is the new general manager. The people most impacted by these changes are usually the players, and they've taken notice of the differences between the Ryan-Idzik era, and the new era of Bowles and Maccagnan.
According to the Metro, 12 anonymous players spoke out about the new facelift.
"He's tough, you can tell that," on defensive player said of Bowles. "I've seen him in here at the crack of dawn working out in the gym. He's in here a couple days a week lifting, not just doing a walk on the treadmill or a few reps of bench press.
"He spells everything out, in detail. What we're going to do today, where we go. How practice is going to be laid out. Todd wants you to commit it -- to take it seriously."
It seems as if the players are more focused and competitive in practice, which should in turn show on the field on game day. One player even went as far as to say that last year it "seemed like guys weren't keyed-in from the beginning."
"In the past, practice seemed like something you went through. Something you just did. I'm not sure everyone took it seriously, players and the coaches. It is a lot more competitive this year."
As you'd expect, it wasn't all good things said about former head coach, Ryan. He didn't seem to have command of his team at all times.
"I don't want to say that there wasn't a respect factor, but sometimes [Rex] seemed like one of us," one offensive player player said. "It was hard to take him seriously. Guys were late to meetings and stuff like that. We played hard for him, we loved him, but it was tough to separate him as a friend and a head coach. I've never had that before in high school or college."
Overall, they weren't the best reviews from players of their former "bosses." That's likely the reason that management made the change. If players don't buy into the coach's system, success on the field is hard to come by.
(h/t Metro)