Anderson Silva embarrasses Michael Bisping at media event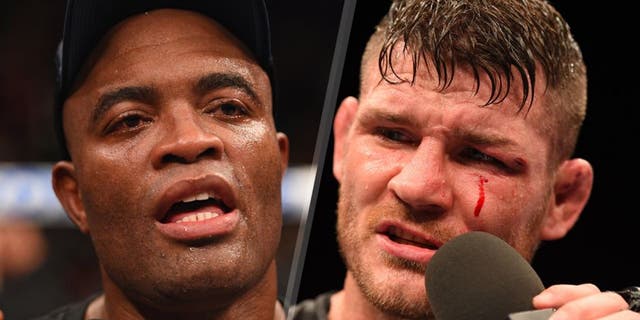 NEWYou can now listen to Fox News articles!
Michael Bisping tried to verbally intimidate his Feb. 27 opponent at a media workout Thursday in Los Angeles -- and it did not go well for the Brit. That's probably because said opponent is Anderson Silva, the long-time middleweight champion and one of -- if not the absolute -- greatest fighters in MMA history.
Bisping tried to mess with Silva on his way out but must have forgotten that no one trolls as hard as "The Spider." Bisping walked over to Silva -- who is returning to action in London against him after a drug suspension and was conducting interviews with media members at that moment -- and began innocently enough.
"There he is," Bisping said (below), turning right and towards Silva, before extending his hand. "See you in London, my friend."
That's where Silva turned it up a notch, in masterfully passive-aggressive, "sonning" form. Silva took Bisping's hand, then pulled him in for a hug.
"See you," Silva said, back.
"Good luck, buddy. Say hi [to] your family," he continued, like a caring mentor.
After the hug, while backing away, Bisping retorted, "No viagra."
In a strange athletic commission disciplinary hearing in Nevada, Silva attempted to excuse his use of banned performance-enhancing drugs by suggesting he only had meant to take sexual-enhancing and sleep-aid drugs. That day of wonderment can be seen beautifully caricatured above.
The real-life Thursday exchange between Silva and Bisping was captured on video, below. After Bisping's taunt of "no viagra," the quick-witted legend shook his right index finger and replied, "No. No, just my punches in your face."
Oh snap.
Forget his years of interviews conducted through an interpretor. When you try to embarass Silva with words, even in English, he can evidently fire back with ease.
At Silva's retort, people around the fighters, as well as Silva, broke into laughter. That didn't seem to sit well with Bisping.
Neither did Silva's paternalistic assurances, delivered with a wave of his hand and a toothy grin. "Relax," he implored Bisping, shaking him off.
"Don't worry, man."
Bisping, up until that point walking through a doorway, turned back around, began walking to Silva, suddenly serious, and delivered a rhyme. "My chin," he said, "to your chin."
"Yes, yes," Silva agreed, probably not sincerely.
From there, Bisping got in Silva's face, touched his graying beard and called him "old." Silva agreed, with a caveat.
"Yes, I'm old," he allowed, "but I'm more smart."
More laughs from the room.
"I'm champion for a long time, remember?" he reminded Bisping, who has never competed for a world title.
Bisping tried to counter with something but Silva, all caring and good-will, reached in and wrapped his arms around Bisping, once more.
"No," he interrupted the trash-talker.
"I understand. Give me a hug. Give me a hug, man."
Bisping obliged, falling into the trap. Then, while in Anderson's embrace, he had to hear the following, delivered right into his ears.
"I understand your frustration for never going for the belt," Silva said.
Then, Bisping remarked about his opponent being skinny, or something. At that point, it didn't matter.
Soon, Bisping simply shouted "f--k you!" at Silva as he walked away.
There's still a fight to fight, but round one -- started by Bisping -- was finished decisively by Silva.