An 81-year-old grandma is playing a role in Michigan's comeback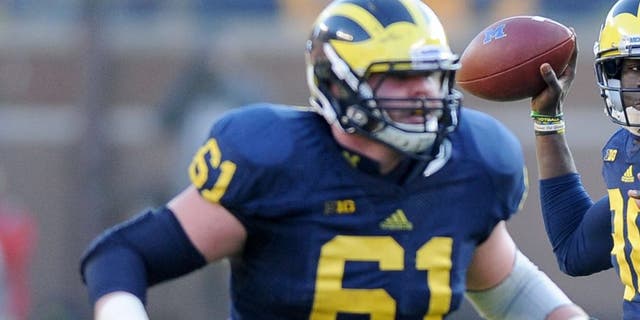 NEWYou can now listen to Fox News articles!
Michigan's early-season resurgence under Jim Harbaugh has a lot of subplots.
The Detroit Free Press might have found the most unique one with a report on who is helping make sure the anchor of the Wolverines offensive line is staying in line this fall.
That would be Graham Glasgow, the Michigan center who has put a couple of off-field issues behind him as he shares his Ann Arbor apartment with his 81-year-old grandmother.
"I'm an 81-year-old co-ed," she told the paper. "I'm the only old lady on the elevator in the building, but this is a win-win for everybody. You know what I'm getting out of this? I see a lot of kids trying to find their way. They don't know how they fit in yet. These are kids and, really, do we all know how we fit in yet?"
The two make sure each other are maintaining their workout regimens, and she said she has gotten her grandson into "Dancing With The Stars."
He credited Harbaugh with coming up with the plan along with Glasgow's father, Steve.
"It's good for her and good for me to have someone cook for me and wash my stuff and watch after me in some ways," Glasgow said. "She gets to cruise the streets, walk around and do whatever she wants. But she's the nosiest person I've ever known. She has to know everything. She'll say, 'You're back a little later, why is that? Were you being smart, Graham?' Oh, Grandma."