'American Idol' winner Trent Harmon talks about NASCAR experience at Richmond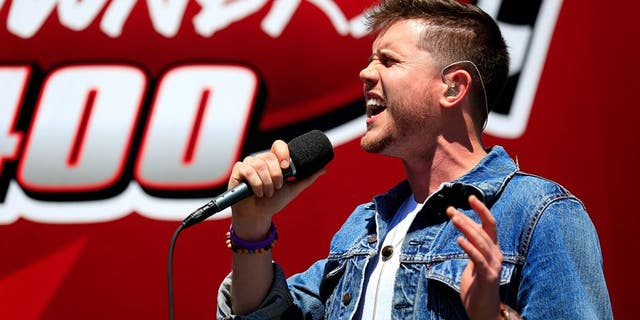 Trent Harmon has an honor no one will ever be able to take away from him: He was the last winner in FOX's hugely successful "American Idol" reality television competition.
Harmon, 25, a native of Amory, Mississippi, has a huge and soulful voice, which he used to great effect when he sang the National Anthem prior to last Sunday's NASCAR Sprint Cup Series event at Richmond International Raceway.
FOXSports.com caught up with Harmon just before the race on Sunday morning.
Charming and passionate about music, Harmon was excited to be at the track.
Here's what he had to say:
Q: Is this your first NASCAR race?
"No, sir. I've been to a couple of different races down towards the South, and then we got to go to Fontana (Auto Club Speedway) a couple of weeks ago. But this is my first short-track race."
Q: What was it like singing the National Anthem at the Manny Pacquiao-Timothy Bradley Jr. fight?
"I'm a boxing fan also. I used to watch boxing every Friday with my grandfathers. It (singing the Anthem at the fight) was incredible. I didn't expect to get to site literally in the first row. I could touch the ring. It was indescribable."
Q: What was the "American Idol" experience like?
"It was tough. There was a lot of waking up early and going to be late. And so many times in all of this music stuff, you invest all this time and all this money. You can forget about the money -- it's really the time -- because you don't get it back.
"You can always make more money, but you never do get that return on that investment. There's no guarantee in music. So when they announced my name on April 7th, I got my return on my investment."
Q: Were you surprised you won?
"No, sir. No, sir. I did not expect to win, and I think anybody that tells you they expect to win, they're not telling you the truth. But I prepared to win. I prepared to win when I auditioned on July 8th. So I wasn't surprised. No, sir.
Q: So what's next for your career?
"I'm going to make an album as fast as I can. You're on a time schedule and you want to stay relevant. So you do different things like this (interview) to keep your name out there, but we've got to get 11 songs recorded as fast as possible."
Q: What's your music like?"
"I've termed it country soul. Because if you listen to me speak, obviously, I'm country. I am Mississippi. That's where I'm from. But I don't necessarily sing like a 'country singer' would. If I'm singing Gospel, if I'm singing country music, pop music, it is soulful. That's what comes out of my mouth."