Alexander Gustafsson once again loses decision, yet is still not defeated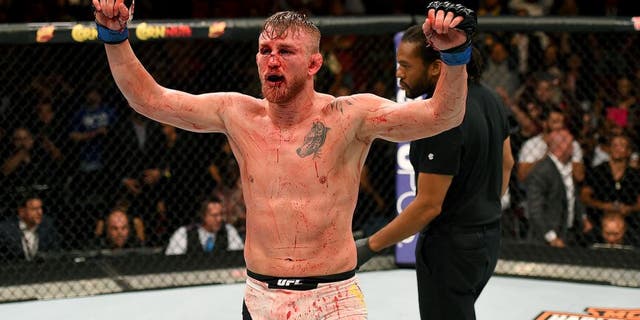 Alexander Gustafsson proved once again Saturday night in the UFC 192 main event that he is one of the very best and most well-rounded fighters in MMA history. He showed phenomenal footwork, hands, knees and kicks.
Gustafsson showed once more that he can outwrestle the best wrestlers in the sport, and that he has the conditioning, grit and heart of a legend in withstanding punishment while never ceasing to deliver his own. At an unbelievably light-footed 6-foot-5, Gustafsson is a nimble giant and a wonder to watch.
Unfortunately, for all that he is, he still doesn't own a world championship. After a back-and-forth war that could have easily been scored for either man, two out of three judges scored Saturday's light heavyweight title fight between the Swede and champion Daniel Cormier, for Cormier.
Cormier put all his usual bluster aside in his post-fight interview, and thanked Gustafsson for making him a better man and fighter through their five-round war. Hopefully, Gustafsson finds a way to use this fight to do the same for himself.
It has to all be dishearteningly familiar for the challenger. In 2013 he went through something very similar when he lost a decision to then champion Jon Jones.
In this writer's opinion, Gustafsson clearly won the first three rounds of that fight, and was on his way to winning the fourth before "Bones" stormed back with damaging strikes and stole the last two rounds. Still, under the current (albeit very flawed) way of scoring MMA contests, that should have given Gustafsson a win with three rounds to two going his way.
Alas, the judges didn't see it for him, and Gustafsson didn't get the win. Earlier this year Gustafsson suffered a brutal and quick TKO loss to Anthony Johnson in his home of Stockholm.
Now, he's lost two consecutive fights, each gutting for different reasons. The lasting satisfaction he'll likely have in his later years knowing that he was able to give everything he had, time and again in ways even few top-level fighters do, will still probably not warm the big man too well on the flight back home.
Gustafsson admitted to having considered retirement after the loss to Johnson. The title shot against Cormier motivated him to get back to work.
Leading up to UFC 192, his camp said that he was better than ever and, he very well may have been.
If Gustafsson once again considers retirement, hopefully it is because he's got enough money to do so, or because he knows his body and brain can use the rest after a lifetime of hard training. It shouldn't be out of darkness or disappointment.
Fighting Alexander Gustafsson tests the best in the world like they never were before, and makes them better men. Watching "The Mauler" fight makes us all better fans.
There may not be enough title belts or treasure to go around, but there were no losers in Saturday's championship fight. Daniel Cormier has the strap after his own incredible effort, and he is indeed the division's "legit" champion as the challenger said, afterwards.
However, belt or no belt, Gustafsson is no less a champion than he or anyone else we've ever seen.