Agent: report Steelers QB Ben Roethlisberger may seek trade "inaccurate"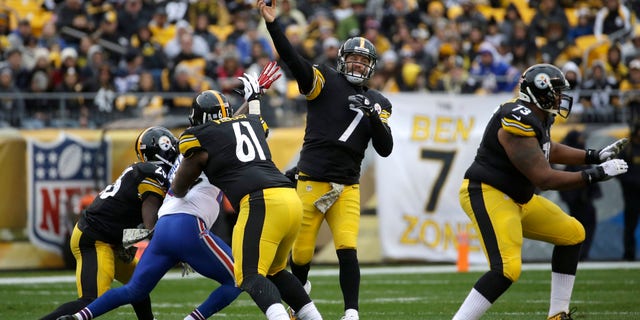 NEWYou can now listen to Fox News articles!
PITTSBURGH – The agent for Pittsburgh Steelers quarterback Ben Roethlisberger says a report the two-time Super Bowl winner may seek a trade in the offseason is not true.
NFL.com reported early Sunday the Steelers expected Roethlisberger to ask the team to explore trade options in the offseason. Roethlisberger's agent, Ryan Tollner, calls the speculation "completely wrong" and says the 31-year-old quarterback is "100 percent committed to winning a championship with the Steelers."
Steelers president Art Rooney II says in a statement "the Pittsburgh Steelers have not explored trading quarterback Ben Roethlisberger and have no plans to do so."
Roethlisberger's current contract will expire at the end of the 2015 season. Tollner says Roethlisberger's roots are "firmly" planted in Pittsburgh. Roethlisberger and his wife are expecting their second child next spring.
___
AP NFL website: www.pro32.ap.org