After consecutive losses and more inept offense, Florida searches for answers during bye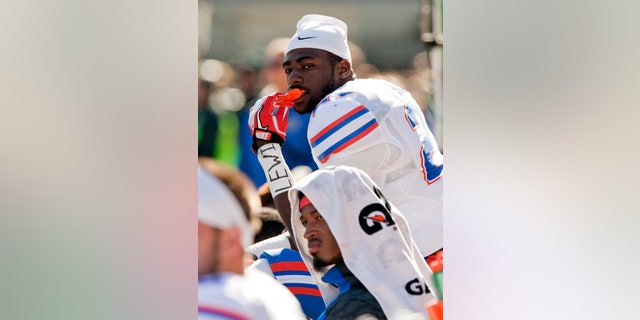 GAINESVILLE, Fla. – At a time when Florida would normally have its assistants on the road recruiting, coach Will Muschamp has them in the office.
Reviewing, re-evaluating, reassessing.
"We need to sit down and figure some things out," Muschamp said Wednesday, four days after a 36-17 loss at Missouri that essentially eliminated the Gators from contention in the Southeastern Conference.
No doubt, the Gators (4-3, 3-2 SEC) have plenty to fix in Muschamp's third season.
Florida's offense is a mess, mostly because of season-ending injuries to quarterback Jeff Driskel, running back Matt Jones and right tackle Chaz Green. But the problems also stem from talent, performance, scheme and play-calling — evidenced by recurring ineptitude on that side of the ball.
The Gators currently rank 106th out of 123 teams in total offense, the third consecutive year they have been in triple digits. They finished 105th in 2011 and thought changing coordinators and quarterbacks would help. But the offense showed little improvement after switching from Charlie Weis (coordinator) and John Brantley (quarterback) in 2011 to Brent Pease and Driskel in 2012.
Sure, the Gators won 11 games last season and nearly played for the Southeastern Conference title. But anyone who watched them probably realized they overachieved with stifling defense and some timely breaks.
Florida hasn't been nearly as good on defense this season, and that's left the offense playing from behind way more often than Muschamp would prefer.
"We need to do a better job across the board," Muschamp said. "When you're not producing, you can't continue to do the same things or you'll get the same result."
So changes could be in store during Florida's bye week. The Gators play rival Georgia next Saturday in Jacksonville. Both teams have lost consecutive games and both are unranked heading into the annual matchup for just the second time since 1979.
Muschamp expects freshman running back Kelvin Taylor to see more action, but the most significant moves could come on the offensive line. The Gators were manhandled up front against LSU and Missouri, with tackles D.J. Humphries and Tyler Moore getting abused early and often.
Muschamp is considering getting mammoth offensive tackle Trenton Brown, a 6-foot-8, 361-pound junior college transfer, and freshman guard Octavius Jackson on the field. He also anticipates using more seven- and eight-man protection schemes.
Quarterback Tyler Murphy, who played well in his first three games off the bench, struggled the last two weeks. He was sacked four times against LSU and six times against Missouri. Making matters worse, Florida got little going on the ground — averaging 2.8 yards a carry against LSU and 1.9 yards a carry against Mizzou.
"I think it's multiple issues, and it starts up front," Muschamp said. "We got to block better in the run game. We have to protect better. We need more production from our skill-position players. ... We got to get more production out of the run game and more production in explosive plays. In the last two games, we haven't had anything explosive. We have to do a better job in the throw game, as well."
The reality is Florida probably won't get things turned in one week or in a month.
Murphy and running back Mack Brown were buried on the depth chart for a reason, and the Gators lack depth along the offensive line and at receiver to really make any meaningful personnel changes.
And while many outsiders believe Muschamp will make staff changes after the season, the coach pointed out that the same assistants led the team to the Sugar Bowl a year ago.
The main reasons for Florida's woes, Muschamp insisted, are the mounting injuries. The Gators have lost eight players, including four starters, to season-ending injuries.
"I think anybody with a shred of intelligence can see the situation," Muschamp said. "It's a bit frustrating, but we need to coach better. ... When you struggle, you need to go back to technique and fundamentals. You need to simplify to get our players to play faster and play with more confidence. That's what we're trying to do."